SHELBY ENJOYS LIFE THE WAY SHE WANTS AFTER WEIGHT-LOSS SURGERY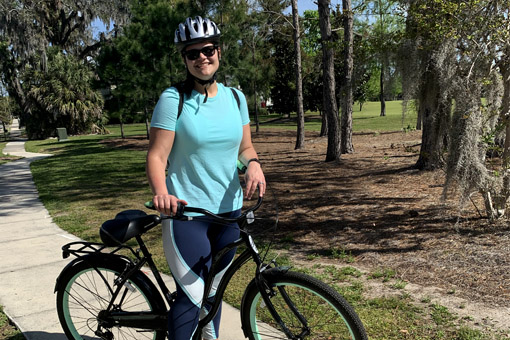 Shelby Villatoro was vacationing in Seattle with her husband Hugo for their one year anniversary. This was their dream city that they looked forward to seeing and had planned for months. Shelby's body, however, could not keep up with her enthusiasm. Walking around Seattle's hills and steep areas left her feeling tired and achy, with swollen joints.
Shelby was at her heaviest during this vacation at over 400 pounds. Instead of it being a happy, romantic trip, she felt defeated and discouraged.
"That was the turning point for me on that trip that I had so built up in my mind," said Shelby. "Because there and then I could not physically do the things I wanted to do. When I returned to Pensacola from that vacation in January of 2017, I made an appointment with my primary care physician to ask for help with my weight concerns."
Shelby was 22 years old at the time. She had struggled with her weight since she was 12 years old. Shelby said her lack of knowledge on nutrition, portions and weight loss health led her to not seek help for many years. When she finally began to ask for help from others, she became more educated and empowered to take action that suited her, such as working with Kevin Schopmeyer, M.D., a board-certified family medicine physician at GuideWell Primary Care.
"Dr. Schopmeyer worked with me on a diet plan to start my weight loss. I followed his food and fitness recommendations. I did lose weight, but I quickly realized that continuing this path would take a long time, and I wanted to feel relief sooner so I could enjoy my life."
Dr. Schopmeyer suggested that Shelby visit The Baptist Weight Loss Center to discuss if she would be a candidate for weight-loss surgery. She met with Patrick Gatmaitan, M.D., bariatric surgeon, Ashton Wilkins, bariatric dietician, and their team to discuss the right path for her health. Shelby had her first appointment in July 2017 and has never looked back. She scheduled the bariatric surgery in January 2018.
"I told myself, 'This is it. I'm doing it!'"
Shelby Villatoro
"Dr. G, Ashton and the weight-loss team at Baptist are amazing. They helped me begin with small changes and attainable goals for me so I would not get overwhelmed or discouraged. For example, they suggested I start by cutting carbs out of one meal per day and walking 20 minutes three times per week. They made sure I followed good nutrition and did not gain any more weight before surgery, and I didn't."
Shelby spent the six months prior to surgery changing her mindset and letting go of her food addiction. She documented her journey online and created an Instagram page called "Subtracting Shelby" to share her experiences. She found her new online community very supportive and encouraging.
Shelby returned to work a week after surgery.
It's been two years since her weight-loss surgery, and Shelby has lost more than 200 pounds and is still losing. She embraces a new, active lifestyle. Shelby and Hugo moved to Orlando in 2019, and they take advantage of the parks within walking distance near their work and home. She incorporates physical activity into her everyday routine.
"I love indulging in coffee, but now I make sure to walk to the coffee shop to get it."
Shelby recently completed her first 5K. She and Hugo went ice skating recently, an activity she once could not do previously, but it's been on her to-do list since her weight-loss journey. When she previously traveled years ago, Shelby had to take days to recover from it. Now she can travel without building in recovery time.
The mental journey has been as challenging as the physical one for Shelby, and it's been rewarding too.
"I still feel like I take up more space than I actually do. I look in the mirror and think I'm done changing and this is it, but I continue to lose weight, tone and reshape my body."
Shelby still calls The Baptist Weight Loss Center with questions even though she is living in Orlando. She said their staff continues to support her even two years after her surgery.
Shelby said she could never go back to her old ways or those size 28 pants she wore. She finally threw them out last September. The journey has not been easy, but the life she's living now is worth it.
"The excuses people tell themselves for not having weight-loss surgery cannot compare to how great you'll feel afterwards, when you get your life back. I love how I live now and that I can do whatever I want."
Shelby shared her story to help with the stigma surrounding weight-loss surgeries and to pay it forward. She continues to be open and informed so she can inspire others to reach their own health goals.