VOICES in Action: Siblings Brittney Anderson and Christopher Snow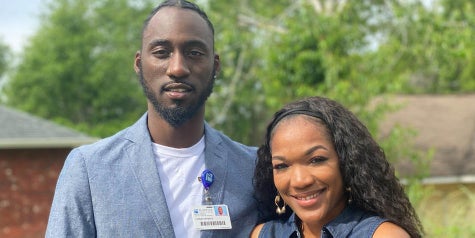 Siblings Brittney Anderson and Christopher Snow share more than just their parents. They both work at Baptist Health Care and share a passion for our culture. This sister and brother identify with our Values and Mission of helping people throughout life's journey. They both feel that Baptist is their second home because of their work families.

Brittney has been with Baptist for 13 years. She works in cardiology as a certified medical assistant. Her primary duties are scheduling clinical heart procedures for patients, making follow-up appointments and assisting with patient flow. Brittney finds it meaningful to build relationships with her patients. She often sends them birthday cards and has the entire staff sign them.
Christopher has been with Baptist for almost two years as a customer service representative in patient financial services. He assists patients with billing, financial assistance and resources to treatment needs. He and his team are involved in the entire process with patients, from pre-service to discharge. Christopher enjoys when he can help a patient ease a burden by providing excellent care, especially from financial stress that may occur for a patient during or after a service.

Brittney is the older sibling. She is married to a wonderful husband, Vincent. They have two children named Kiarra and Carter. Christopher is the only male among his two sisters. He enjoys being an uncle to Britney's children. He was born at Baptist Hospital and is now honored and humbled to be working for it and this organization.

Brittney credits leadership for paving the way to Baptist Values and the responsiveness for our teams. "From Helping Hands to the way our ER responded to take care of our NAS shooting victims, I respect and admire our incredible teams." Because of their example Brittney says she strives to be a better person than the day before.

Christopher has found his time at Baptist rewarding and joined the mentoring team within patient financial resources. "The mentor team has helped me grow, while allowing me to also teach our most recent six additions. I have trained and mentored each individual with the appropriate knowledge needed to succeed within the organization, giving me the opportunity to exemplify BHC's core values."
Both Brittney and Christopher share the same favorite book, one written by their father William "Bill" Snow called "From the Projects to the Boardroom." Brittney's favorite quote is "Nobody who ever gave his best regretted it" by George Halas.
Thank you, Brittney and Christopher, for giving your best to Baptist. We are so glad to have you as part of our team, and we thank you for the impact you make in our community.