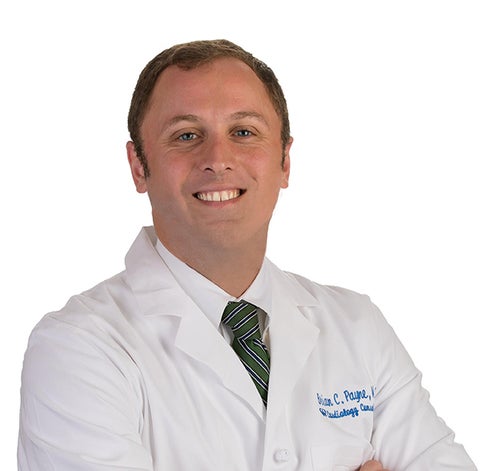 ---
RATINGS & REVIEWS
The provider star rating is calculated using patient reponses to the five care provider questions in our patient satisfaction survey. Below you can see the provider's star rating and the number of his or her patients who have provided feedback.
4.8
Provider discussed treatment options
---
4.8
Provider showed concern
---
4.8
Provider explained things clearly
---
4.9
Provider included you in decisions
---
4.8
Likelihood of recommending this provider
---
---
Comments
3/31/2023
Good
---
3/27/2023
He did a good job
---
3/27/2023
Dr. Payne has been my Cardiologist for 6 years. He is taking very good care of me and he listens to my concerns and always answers my questions in a way that I can understand.
---
3/03/2023
Dr. Payne was excellent. He asked questions and listened. Until more tests are run, he couldn't discuss treatment options. I felt I was in good hands.
---
2/06/2023
Dr. Payne is an excellent cardiologist and I have recommended him.
---
1/23/2023
Dr Payne is an excellent physician, is up to date on my condition when he comes in, genuinely caring about how I'm doing, and makes treatment decisions based on my answers to his questions and previous blood work. He is very thorough and I'm very pleased with his treatment of me.
---
1/20/2023
Dr. Payne is highly consultative and has been integral in facilitating recent health improvements I have experienced.
---
1/05/2023
The d0ctor listened to my concerns and recommended a test.
---
12/11/2022
Dr. Payne and staff were very helpful, showed concern and listened to all of my concerns.
---
12/08/2022
When it comes to cardiology, Dr. Payne is a rock star. He works with the patient with a compassionate, truly caring attitude. His knowledge of my history, where we needed to be and how to get there were all discussed and laid out. He adjusted my medications based on my history and advised of what to expect. I feel very lucky to be a patient of this remarkable doctor. He is keeping me above ground!
---
12/08/2022
Dr Payne is a Great Listener and Staff is the Best a person can ask for in Pensacola Florida
---
12/06/2022
Dr. Payne spent a considerable amount of time with me and listened carefully to my concerns. He made extremely detailed case notes, which I reviewed on the Baptist patient portal.
---
12/06/2022
Dr. Payne was very nice! He listened carefully, questioned when he needed to get a better understanding. Offered opinions and suggestions that were very helpful.
---
11/03/2022
Dr Payne is always caring, listening and just right
---
10/22/2022
I highly recommend Doctor Payne and his staff to my friends and acquaintances.
---
10/20/2022
Dr. Payne did a good job explaining medication effectiveness, changes and the stress test he ordered. He listened to the patient concerns and responded appropriately without confusing her.
---
10/20/2022
Dr. Payne is very thoughtful and explained everything he saw in my charts. Very encouraging to me to exercise.
---
10/07/2022
I already knew Dr. Payne as my husband currently is his patient. He's always been awesome! Very thorough, patient & kind.
---
9/27/2022
Love dr payne
---
9/25/2022
Dr Payne was great he asked me the right questions.
---
Biography
Dr. Brian Payne is a board certified fellowship trained cardiologist who specializes in treating cardiovascular diseases and works with patients to offer comprehensive cardiovascular treatment plans that best meet their conditions and needs. He welcomes new patients.
Medical Degree
University of Tennessee College of Medicine
Memphis, TN
Residency
Tulane University
New Orleans, LA
Fellowship
Tulane University
New Orleans, LA
Board Certification
Cardiovascular Disease
Internal Medicine
Clinical Specialties
Clinical Cardiology
Cardiovascular Imaging
Echocardiography
Nuclear Cardiology
Vascular Ultrasound
Meet your Doctor
What led you to become a doctor or choose your focus of medicine?
Both of my parents were in the health care profession. I enjoyed science early on, and I have always enjoyed interacting with people. It was a natural fit.
What about your line of work do you find most rewarding and why?
When I see somebody's quality of life improve because of counseling and improvement of lifestyle, medical treatment, or after cardiac interventions.
How would a patient describe you?
Easy to talk to. Always willing to explain medical issues in depth.
What's your proudest moment as a doctor?
Whenever a patient shows appreciation and lets me know I am doing a good job.
In your opinion, what's the most important factor in a doctor-patient relationship?
Open communication, honesty, and trust.
What can a patient expect when they have you as a doctor?
100% effort to address all concerns and provide quality care.
What do you find most encouraging about the work you do?
Field of cardiovascular medicine is constantly advancing
What are your top priorities with every patient you see?
That every patient knows the modifiable risk factors for cardiovascular disease.
Describe one of the top ways you ensure each patient receives the quality, personal health care he/she deserves.
Taking the time to listen and get to know patients on a personal level.
Do you have any specific medical interests?
Echocardiography, cardiovascular medicine, preventive cardiology, cardio-oncology