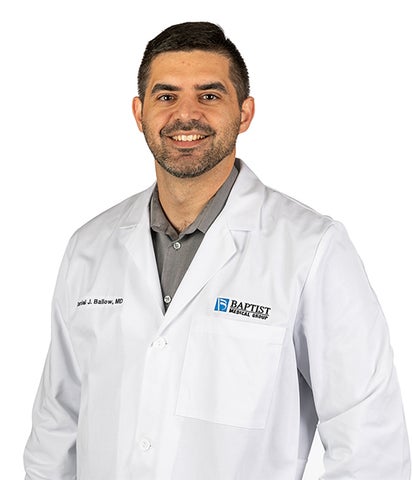 ---
RATINGS & REVIEWS
The provider star rating is calculated using patient reponses to the five care provider questions in our patient satisfaction survey. Below you can see the provider's star rating and the number of his or her patients who have provided feedback.
4.9
Provider discussed treatment options
---
4.9
Provider showed concern
---
4.9
Provider explained things clearly
---
4.9
Provider included you in decisions
---
4.8
Likelihood of recommending this provider
---
---
Comments
2/25/2022
Dr. Ballow is a great doctor and I am sad to see him leave.
---
2/03/2022
You could not have a better doctor
---
2/03/2022
Dr shared with me not only my current condition but what could possibly occur in the future.
---
Biography
Baptist Medical Group - Urology
A DEPARTMENT OF BAPTIST HOSPITAL
Daniel Ballow, M.D., is a highly skilled urologist who specializes in complex stone disease, benign prostatic hyperplasia and robotic and minimally invasive surgery. He offers quality, convenient treatment and diagnosis of a wide scope of urologic conditions. Dr. Ballow currently welcomes new patients.
Medical Degree
Texas Tech University Health Science Center
Lubbock, TX
Residency
University of Texas Medical Branch
Galveston, TX
Certification
American Board of Urology
Professional Memberships
American Urological Association
American Urological Association – South Central Section
Texas Urological Society
Clinical Specialties
Urology
Minimally Invasive Surgery
Robotic Surgery
Clinical Interest
Urologic Oncology
Kidney Stones
Publications
Choi Y, Qin Y, Berger MF, Ballow DJ, Bulyk ML, Rajkovic A. Microarray analyses of newborn mouse ovaries lacking Nobox. Biol Reprod. 2007;78(2):312-319
Ballow DJ, Xin Y, Choi Y, Pangas SA, Rajkovic A. Sohlh2 is a germ cell-specific bHLH transcription factor. Gene Expr Patterns. 2006;6(8):1014-8
Pangas SA, Choi Y, Ballow DJ, Zhao Y, Westphal H, Matzuk MM, Rajkovic A. Oogenesis requires germ cell-specific transcriptional regulators Sohlh1 and Lhx8. Proc Natl Acad Sci USA. 2006;103(21):8090-5
Ballow D, Meistrich ML, Matzuk M, Rajkovic A. Sohlh1 is essential for spermatogonial differentiation. Dev Biol. 2006;294(1):161-7
Additional Information
To learn more about Dr. Ballow, please visit his practice page, Baptist Medical Group – Urology.
Meet your Doctor
What led you to become a doctor or choose your focus of medicine?
I chose urology because it affords me an opportunity to enjoy a balance of clinical medicine as well as surgery. Many surgical specialties do not have as much continuity of care as urology, and may not manage conditions for which there are non-surgical treatment options. Urology, I think, is unique in that for a given problem there are many treatment options.
What about your line of work do you find most rewarding and why?
There are many aspects of urology that I find rewarding, from the ability to cure cancer with surgical excision of a tumor, to relieving pain from a kidney stone with a (relatively) quick, easy procedure, but the aspect I am most rewarded by is when through education, medical therapy or surgery, we can improve a patient's quality of life.
What's your proudest moment as a doctor?
My proudest moment to date was early in my final year of training, when I accomplished a complete robotic-assisted laparoscopic prostatectomy from "skin to skin," as we say, without assistance from my faculty mentor, for the first time.
In your opinion, what's the most important factor in a doctor-patient relationship?
I feel that mutual trust and respect is critical to the doctor-patient relationship. When a patient allows a surgeon to operate, they truly put their life into our hands; that would be impossible without a tremendous level of trust in that surgeon's abilities and integrity. The physician must trust in his patients to be active participants in maintaining their health and be honest and forthright about their symptoms and adherence (or lack thereof) to the doctor's recommendations.
What do you find most encouraging about the work you do?
The most encouraging thing about the field of urology is that medical technology is advancing at such a rapid pace, in all fields but especially in cancer, and that there are so many new diagnostic tests and new treatment options for conditions than there were even five years ago.
What are your top priorities with every patient you see?
The number one priority when seeing a patient is to ensure they have as complete an understanding of their disease process, treatment plan and prognosis as possible, because without that understanding a patient cannot make the best possible choices.
Describe one of the top ways you ensure each patient receives the quality, personal health care he/she deserves.
Excellent communication is the key to quality care, and it starts with physician availability throughout the day. Staying on top of a patient's lab results, phone calls to the office and changes to operating room dates requires a team effort from the doctor's office, and the physician has to lead by example by being affable and available at all times.