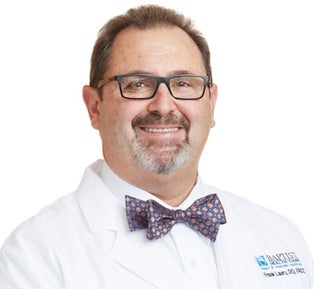 ---
RATINGS & REVIEWS
The provider star rating is calculated using patient reponses to the five care provider questions in our patient satisfaction survey. Below you can see the provider's star rating and the number of his or her patients who have provided feedback.
4.7
Provider discussed treatment options
---
4.7
Provider showed concern
---
4.7
Provider explained things clearly
---
4.7
Provider included you in decisions
---
4.7
Likelihood of recommending this provider
---
---
Comments
2/15/2022
Everyone was great!. Efficient Office!
---
2/10/2022
Dr. Laura was very nice and spent more time with me than I was expecting.
---
2/08/2022
Good
---
2/05/2022
No orders for bloodwork- Listens attentively and has a pleasant attitude
---
2/05/2022
Excellent professional
---
2/03/2022
Dr. Lauro came highly recommended and with positive comments from his nurse. I understood why after meeting his and getting his professional assessment of my condition. He was easy to talk to and understand.
---
Biography
Dr. Frank Lauro is a board-certified, fellowship-trained cardiologist who specializes in treating cardiovascular disease. He works with patients to offer comprehensive cardiovascular treatment plans that best meet their conditions and needs and welcomes new patients.
Medical Education
Kansas City University of Medicine and Biosciences
Kansas City, MO
Residency
Philadelphia College of Osteopathic Medicine
Philadelphia, PA
Fellowships
Deborah Heart & Lung Center
Browns Mills, NJ
University of Florida, Health Science Center
Jacksonville, FL
Board Certifications
Board Certification, Cardiovascular Disease
Fellow, American College of Osteopathic Internist
Fellow, American College of Cardiology
Clinical Specialties
Non-invasice Cardiology
Lifestyle Medicine
Professional Organizations
American Osteopathic Association
American College of Osteopathic Internists
Florida Osteopathic Medical Association
Florida Medical Association
American College of Cardiology
American Society of Echocardiography
American Society of Nuclear Cardiology
Society of Cardiovascular Computed Tomography
American Association of Physician Leaders
Meet your Doctor
What lead you to become a physician or choose your focus of medicine?
As far back as I remember, I have had an aptitude and interest for the health sciences. I was introduced to Osteopathic Medicine by my college adviser. The tenets of Osteopathic Medicine appealed to my sense of care to for the "whole" person.
What about your line of work do you find most rewarding and why?
Each patient presents with unique challenges to their health, and it is most rewarding when you can provide them with the right education and treatment that results in meeting mutual expectations.
What is something about you that only your patients would know?
They know I am always up to date involving the latest research. They know that establishing a relationship that facilitates and open and honest communication is paramount to us working as a team and establishing realistic expectations.
How would a patient describe you?
They would describe me as a highly competent cardiologist who recognizes the importance of building relationships with his patients to ensure optimal outcomes.
What's your proudest moment as a physician?
For me, it's knowing that I addressed every patient's needs in regard to their cardiovascular health. The patient comprehends what was discussed and together we have developed the next steps.
In your opinion, what's the most important factor in a physician-patient relationship?
Establishing a relationship that facilitates a mutual trust.
What can a patient expect when they have you as a physician?
They can expect thoroughness, professionalism, clear communication, honesty and feeling that I care about them. They can also expect that I will be committed to my own personal knowledge, education, and am current on all research.
What do you find most encouraging about the work you do?
The field of cardiology is changing daily and offers new and exciting diagnostic and treatment strategies that continually enable us to tailor unique therapy to each patient.
What are your top priorities with every patient you see?
Building a relationship that leads to mutual trust is paramount when facilitating a treatment plan. Establishing confidence will be achieved through education and assurance that I am up to date involving the latest research.
Is there anything more or extra you would like prospective patients to know about you?
Having spent some time in the past as a physician executive, I have gained a unique perspective to the dynamic healthcare environment that exists today. I can utilize the leadership and management skills I acquired to assist patients in navigating their health concerns. Also, having moved to Pensacola in 2015, I have developed a love and passion for the community and also volunteer at a local non-profit healthcare clinic for the indigent.
Do you have any specific medical interests?
I have an interest in the field of lifestyle medicine. This involves the use of evidence-based approaches related to diet, physical activity, sleep, stress management and avoidance of risky substances, to prevent, treat and sometimes reverse chronic diseases, especially those related to the heart.