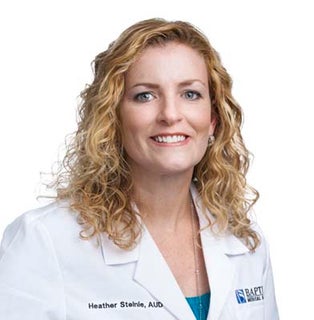 ---
RATINGS & REVIEWS
The provider star rating is calculated using patient reponses to the five care provider questions in our patient satisfaction survey. Below you can see the provider's star rating and the number of his or her patients who have provided feedback.
4.6
Provider discussed treatment options
---
4.7
Provider showed concern
---
4.7
Provider explained things clearly
---
4.6
Provider included you in decisions
---
4.6
Likelihood of recommending this provider
---
---
Comments
3/16/2022
Good experience
---
2/25/2022
Dr. Heather Steiner ,had a very nice mannerisms. She explained every part of the hearing test so I would know what to expect. She face me the whole time we talked which helped me hear her clearly. I felt she really cared about me and the struggles I were having on lack of hearing.
---
2/20/2022
Good
---
Biography
Heather Steinle, Au.D., is a certified audiologist who offers a wide scope of audiology services. She currently welcomes new patients at the Baptist Medical Group – Audiology practice located in Pensacola.
Medical Degree
Doctorate of Audiology
A.T. Still University, Arizona School of Health Sciences
Mesa, AZ
Certifications
Certificate of Clinical Competence/ Audiology
Memberships
American Speech-Language and Hearing Association
American Academy of Audiology
Clinical Specialties
Clinical Audiology
Pediatric Audiology
Additional Information
To learn more about Heather S. Steinle, AuD, and her services, please visit her practice page, Baptist Medical Group – Audiology.

Meet your Provider
What led you to choose your focus of medicine?
I have a family member with hearing loss, and she was primarily able to communicate due to her hearing care providers.
What about your line of work do you find most rewarding and why?
Helping people communicate with their family and friends and helping children hear so they can attain their educational and personal goals.
How would a patient describe you?
Personable, friendly and empathetic.
In your opinion, what's the most important factor in a provider-patient relationship?
Trust and compassion.
What can a patient expect when they have you as a provider?
Willingness to help patients attain their goals to improve their quality of life. I will provide them with the education, knowledge and technology to improve their ability to communicate and enjoy life.
What do you find most encouraging about the work you do?
Rapid changes in technology are improving so that hearing impaired people can lead fully communicative lives.
What are your top priorities with every patient you see?
Compassion and quality diagnostics.
Describe one of the top ways you ensure each patient receives the quality, personal health care he/she deserves.
Taking the time to provide truly quality care and keeping up with continuing education in technology.