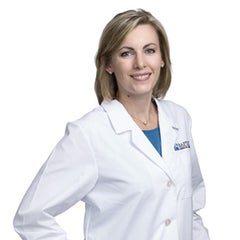 ---
RATINGS & REVIEWS
The provider star rating is calculated using patient reponses to the five care provider questions in our patient satisfaction survey. Below you can see the provider's star rating and the number of his or her patients who have provided feedback.
4.9
Provider discussed treatment options
---
4.9
Provider showed concern
---
4.9
Provider explained things clearly
---
4.9
Provider included you in decisions
---
4.9
Likelihood of recommending this provider
---
---
Comments
6/22/2022
Excellent in all visit
---
6/10/2022
Dr. White is an intelligent, attentive and patient physician. I appreciate her conservative, well thought plan of care.
---
6/07/2022
Great
---
6/04/2022
Dr White was AMAZING. This was my first experience with [...] and she put me completely at ease.
---
5/27/2022
I like Dr. White, her staff and Baptist Medical.
---
5/25/2022
Happy to have Dr White taking care of me
---
5/25/2022
I was very pleased with the care Dr. White provided my husband. She was very kind and considerate, and she listened to our concerns and answered all of our questions. She explained her plan of action very clearly. We never felt rushed. We were very impressed and satisfied with our visit.
---
5/23/2022
Dr. White is very professional with a good bed side manner.
---
5/17/2022
Dr White is AWESOME!She really does LISTEN to her patients. THANK YOU Dr White
---
5/07/2022
Dr. White is superb! She is kind, caring, and reassuring. She clearly explains physical assessment and treatment options. She is proficient performing medical procedures with very little discomfort. I would highly recommend Dr. White to anyone.
---
5/06/2022
Good
---
5/04/2022
Physicians and staff are superb and professional
---
5/03/2022
Good experience
---
4/30/2022
I was very impressed with her. I would recommend anybody that needs an ENT
---
4/29/2022
Dr. White performed the surgery that saved me from cancer. I 100% trust her decisions for my health.
---
4/22/2022
Great doctor
---
4/20/2022
Dr white was awesome and very informing.
---
4/08/2022
Dr White is an excellent doctor and is friendly and professional. Could not ask for more excellent provider and caring person.
---
4/08/2022
Dr. White is a very good doctor. I had read reviews online before going to her, which the reviews were wrong. I have trust in Dr. White for my care.
---
3/22/2022
Very pleased with visit. Appreciate Dr White cleaning my ears out. That provided very much relief from my discomfort. I have had other doctors that didn't bother to do that. Thank you Dr White!
---
Biography
Dr. White is an experienced, board-certified physician in otolaryngology, head and neck surgery and is fellowship trained in head and neck oncology and microvascular reconstructive surgery. She offers quality, convenient treatment, and diagnoses of a wide scope of ear, nose, throat, head and neck conditions. She is currently accepting new patient appointments at her practice in Pensacola.
Medical Education
Louisiana State University Health Sciences Center
New Orleans, LA
Residency
University of Alabama at Birmingham, Otolaryngology
Birmingham, AL
Fellowship
University of Alabama at Birmingham, Head and Neck Oncology Surgery, and Reconstruction
Birmingham, AL
Board Certifications
American Board of Otolaryngology
Fellow American College of Surgeons

Professional Memberships
American Academy of Otolaryngology-Head and Neck Surgery
American College of Surgeons
American Head and Neck Society
American Medical Association
The American Laryngological Rhinological and Otological Society, Inc.
Clinical Specialties
Otolaryngology-Head and Neck Surgery
Head and Neck Oncology Surgery and Reconstruction
Additional Information
To learn more about Dr. White and her services, please visit her practice page: Baptist Medical Group–ENT.
Meet your Doctor
In your opinion, what is the most important factor in a doctor-patient relationship?
Respect and Trust
What do you find most encouraging about the work you do?
Ensuring that my patients receive the best treatment available while using a team-oriented approach to their care.
What are your top priorities with every patient you see?
To ensure that each and every patient is truly heard during their visits and to make certain that they are an engaged and active team member during their entire treatment.