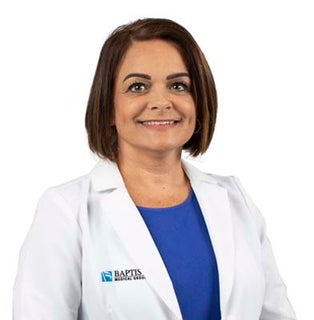 ---
RATINGS & REVIEWS
The provider star rating is calculated using patient reponses to the five care provider questions in our patient satisfaction survey. Below you can see the provider's star rating and the number of his or her patients who have provided feedback.
4.8
Provider discussed treatment options
---
4.9
Provider showed concern
---
4.8
Provider explained things clearly
---
4.9
Provider included you in decisions
---
4.8
Likelihood of recommending this provider
---
---
Comments
6/29/2022
Jodilyn Holz is amazing. She is very caring and takes the time to listen. She doesn't rush through the appt and makes sure that you know your health care matters. She is a rare find and I am happy that she is my care provider.
---
6/27/2022
Jodi was amazing. So nice, quick, and informative. Really love her!
---
6/26/2022
Jodi Holtz was amazing!!
---
6/24/2022
Great
---
6/18/2022
Jodi always spends time listening to what I have to say, and does not make you feel like you are bothering her
---
6/06/2022
I love NP Jodi Holz she's AWESOME!!! [...]
---
6/03/2022
Awesome
---
5/23/2022
She's the Best .
---
5/15/2022
Dr Jodi listens and explains what she is going to do about the health problems you are having. Very professional.
---
4/26/2022
Jodi was great. She asked lots of questions to help get a better idea of what was going on with me, even though this was just a visit to get established with a new PCP. She offered possible solutions that I hadn't heard from other doctors, which I think is a good thing. Instead of telling me she was sending me for an ultrasound, she asked if I'd be okay with it. That showed me she wants me to feel included rather than being talked down to or being bossed around. At a base level, I just really liked Jodi and I got a good vibe from her.
---
4/08/2022
Everything was great.
---
3/16/2022
Jodi was great. Highly recommend her to anyone!
---
3/16/2022
Very good
---
3/11/2022
I felt completely put at ease by my NP and I had a great experience with her!
---
3/07/2022
I have referred three people to Dr. Holz they are very happy with the quality of care she provides as am I and praise her bedside manner.
---
2/26/2022
She was very knowledgeable.
---
2/16/2022
Jodilyn Holz is very good the best care provider I ever had
---
2/12/2022
I didn't feel rushed during my appointment, and again she was very thorough and answered all my questions.
---
Biography
Jodilyn Holz, APRN-C, is a board-certified Family Medicine nurse practitioner at GuideWell Primary Care and Baptist Medical Group Primary Care - Pine Forest. Jodilyn is dedicated to providing superior patient care including, same-day appointments and services to patients ages 2 and up.
Medical Degree
Masters, University of South Alabama
Mobile, AL
Pensacola Christian College
Pensacola, FL
Certifications
American Academy of Nurse Practitioners
Adult Gerontological Primary Care Nurse Practitioner
Membership
Sigma Theta Tau International, Zeta Gamma Chapter

Meet the Provider
What led you to become a doctor or choose your focus of medicine?
Identifying a need for patient advocacy to promote quality of life
What about your line of work do you find most rewarding and why?
I find it rewarding to impact a patient's quality of life.
It is rewarding to know I can have a part in promoting a healthier life.
How would a patient describe you?
I would hope to be described as caring and empathetic.
What's your proudest moment as a doctor?
Knowing I made a difference for a patient who needed someone to take the time to listen.
I was able to see an improvement in physical and mental health.
In your opinion, what's the most important factor in a doctor-patient relationship?
Being trustworthy and dependable
What can a patient expect when they have you as a doctor?
They can expect to have someone who will listen and can be trusted to advocate for them.
What do you find most encouraging about the work you do?
I find that health promotion and disease management to help others improve their quality of life the most encouraging.
What are your top priorities with every patient you see?
My top priority is to listen to their concerns and provide quality assessment and care. I want every patient to leave feeling that their concerns were heard and we have a plan.
Describe one of the top ways you ensure each patient receives the quality, personal health care he/she deserves.
Another physician once told me if you listen long enough, the patients will tell you what is wrong with them. I try to always remember to take the time to really listen and then proceed with a thorough assessment to identify any concerns.
I also encourage patients to write down questions or concerns for follow-up visits so they don't forget to discuss something they feel is important.
Is there anything more or extra you would like prospective patients to know about you?
I have a passion for health promotion and management of disease processes. I want to help each patient find their path to a healthy and fulfilling life.
Do you have any specific medical interests?
I enjoy working with others to promote learning and development. I look forward to collaboration with Florida Blue for community health promotion.