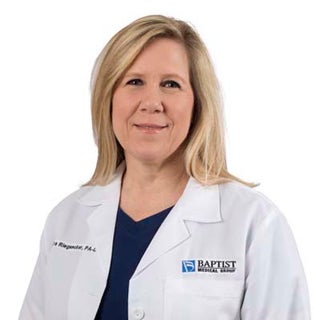 ---
Location(s)
---
---
---
---
Biography
Mara Riegsecker is a certified physician assistant (PA-C) who offers quality urgent care services to patients at Baptist Occupational Health, located on the Baptist Medical Park-Nine Mile and Baptist Medical Park - Airport campuses.
Medical Education
Master's Degree in Physician Assistant Studies, University of Florida
Gainesville, FL
Certifications
National Commission on Certification of Physician Assistants
Additional Information
To learn more about Mara Riegsecker, PA-C, and her services, please visit her practice page, Baptist Urgent Care.
Meet Your Provider
What led you to become a provider or choose your focus of medicine?
Since an early age, I have always been interested in the medical field.
What about your line of work do you find most rewarding and why?
I love to help and heal people. Doing good towards others is my true passion.
What is something about you that only your patients would know?
Always pleasant and positive.
How would a patient describe you?
Very friendly, caring and trustworthy.
What's your proudest moment as a provider?
Being told by a physician that I had excellent skills in laparoscopic surgery.
In your opinion, what's the most important factor in a provider-patient relationship?
Trust.
What can a patient expect when they have you as a provider?
They will be treated with kindness and respect.
What do you find most encouraging about the work you do?
Knowing I have the ability to help someone get better.
What are your top priorities with every patient you see?
To make them feel comfortable and that I will do the best job I can for them.
Describe one of the top ways you ensure each patient receives the quality, personal health care he/she deserves.
Give patients the time they need. I treat all patients equally.
Is there anything more or extra you would like prospective patients to know about you?
I have experience in the health care field that is in-depth and varied.