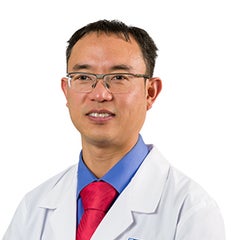 ---
RATINGS & REVIEWS
The provider star rating is calculated using patient reponses to the five care provider questions in our patient satisfaction survey. Below you can see the provider's star rating and the number of his or her patients who have provided feedback.
4.6
Provider discussed treatment options
---
4.7
Provider showed concern
---
4.6
Provider explained things clearly
---
4.6
Provider included you in decisions
---
4.6
Likelihood of recommending this provider
---
---
Comments
5/21/2023
The doctor was very attentive and has a very good "bedside" manner, he quickly put me at ease
---
5/14/2023
Great doctor and staff
---
5/13/2023
Dr. Tony Lee is an excellent physician. Very pleased with his knowledge and abilities.
---
5/11/2023
He was well versed on my file even I n the past snd this was my first visit with him.
---
4/27/2023
Dr Tony Lee very professional and provides good information to patient.
---
4/27/2023
Knowledgeable and informative
---
4/24/2023
Dr. L.(Tony) Lee is outstanding and the exceptionally superior physician.
---
4/24/2023
I was comfortable
---
4/24/2023
My first visit to a specialist and his plan to test and evaluation was spot on.
---
3/27/2023
Doctor Lee was very professional. I have a lot of confidence in him for treating me. His nurse [...] was awesome, professional , knowledgeable and professional. Dr Lee and her makes a good team.
---
3/25/2023
Dr Lee is an excellent heart specialist
---
3/11/2023
Dr. Lee is awesome! Bottom line - could not be happier with his care and concern for my overall heart health.
---
2/19/2023
Dr. Lee is outstanding!
---
2/18/2023
Dr. Lee is excellent.
---
2/02/2023
Dr Lee was very good in all areas and has exceptional bedside manners. You feel comfortable in his presence and he is very intelligent person and knows medicine and does his job very well. I recommend he over other heart doctors.
---
9/27/2022
We have had Dr. Lee as our cardiologist since [...]. We trust him completely with our cardiac care. He is kind, very thorough & explains everything to us.
---
9/24/2022
Dr. Lee was so kind and understanding and really took the time to help me understand my situation.
---
9/24/2022
Very pleased
---
9/17/2022
The great care they give you
---
9/09/2022
Dr. Lee is an awesome Doctor and I feel very blessed and fortunate to have him as my Cardiologist.
---
Biography
Dr. Tony Lee is a highly-skilled, fellowship-trained cardiologist who specializes in treating cardiovascular diseases and works with patients to offer comprehensive cardiovascular treatment plans that best meet their conditions and needs. He welcomes new patients.
Medical Education
University of Texas - Southwestern
Dallas, TX
Residency
University of Hawaii
Honolulu, HI
Fellowships
University of Florida
Gainesville, FL
Certifications
Board Certified, Internal Medicine
Board Certified, Cardiovascular Disease
Board Certified, Cardiovascular Computed Tomography
Board Certified, Nuclear Cardiology
Board Certified, Adult Echocardiography
Board Certified, Cardiovascular Magnetic Resonance
Board Certified, Clinical Lipidology
Professional Memberships
American College of Cardiology
Clinical Specialties
Preventative Cardiology
Advanced Cardiac Imaging
Sports Cardiology
Meet the Doctor
What led you to become a doctor or choose your focus of medicine?
I fell in love with cardiology during my second year of medical school. My best friend in college always wanted to be a cardiologist (he's a radiologist now in California), and I always thought: "good for you, but it's not for me." I wanted to be an immunologist. That changed during my second year of medical school when our first "organ-based curriculum section focused on the heart and cardiovascular system. The fact that cardiology is mechanism-driven and evidence-based was something that really appealed to me. I especially liked cardiac imaging, such as echocardiography and cardiac MRI. I was fortunate to be able to do research as a medical student in cardiac MRI and present our research findings at the Society of Cardiac Magnetic Resonance (SCMR) meeting in Rome. Advanced cardiac imaging is still something I enjoy a lot in my everyday practice today. I always believe that if you have a passion for something and want to do it yourself, you're going to be better at it. Cardiology is my passion, and I feel fortunate every day that I'm able to practice cardiology and provide cardiovascular care for my patients.
What about your line of work do you find most rewarding and why?
I enjoy a lot of things about cardiology, but one of the things I most enjoy is taking care of patients. I think the most rewarding part of my job is being to apply the latest, evidence-based findings and guidelines to the unique situation of an individual patient. It's especially rewarding when my patients embrace and take ownership of their cardiovascular health by engaging with me in asking questions and trying their best with their own unique circumstances in improving their lifestyle and cardiovascular health. I enjoy getting to know my patients as people as well, and it's been fun getting to know them and their families through the years.
What is something about you that only your patients would know?
One is that I take a history and do the physical exam before discussing any test results. There are a couple of reasons for this. First, I want an unbiased appraisal of their symptoms, so I can incorporate this into clinical decision-making with test results. Second, I try to be methodical and thorough, so as not to miss anything. The other thing is that I always try to be supportive of patients, even if they haven't done their best in terms of a healthy lifestyle or taking their medications. No one is perfect, so I just try to motivate and encourage them to do the best they can, particularly if there are circumstances that have made it more difficult for them.
How would a patient describe you?
I think that if I were my patient, I'd think that I would think initially that this doctor is very serious and contemplative. It's my job to work with patients to figure out how to best improve their cardiovascular health and/or cause of their symptoms and signs, so this is not necessarily a bad thing. I think that being a doctor and a cardiologist is a privilege, so I do take my job seriously. That being said, I think that patients who have been my patients for a while (and even those who have not) hopefully can readily see that I truly do care about them as a person, and also that I'm not quite as serious as I initially appear. We'll share some jokes, and discuss what's going on in your life or some common interests.
What's your proudest moment as a doctor?
That's hard to say. I'd say that I try to do my very best day in and day out, and that's something I can be proud of.
In your opinion, what's the most important factor in a doctor-patient relationship?
Trust.
What can a patient expect when they have you as a doctor?
I think patients should expect to have a doctor that truly cares about them and their cardiovascular health, in our field. I'm certainly not perfect, but I think that patients should expect their physicians to do their very best. For me, that means trying to stay up to date on the latest treatments and literature, and doing my best to apply this to the unique circumstances of each individual patient I see.
What do you find most encouraging about the work you do?
The thing I find most encouraging about my work is when I am able to work with my patients to improve their cardiovascular health. When they are engaged and we are working together toward this goal, that's the most encouraging and best part of the job.
What are your top priorities with every patient you see?
My top priorities are to make sure that my patients work with me to improve their cardiovascular health, and that I incorporate the latest, best medical evidence to their unique circumstances.
Describe one of the top ways you ensure each patient receives the quality, personal health care he/she deserves.
We work together, that patient and me.
Is there anything more or extra you would like prospective patients to know about you?
If you are someone who cares very much about improving your cardiovascular health, then I think, we'll get along great because that's what I'm all about- working with you and your family to be the best you can in terms of your cardiovascular health.
Do you have any specific medical interests?
I have a lot of interests, including medically. Aside from taking caring for patients in the clinic and in the hospital, I also enjoy advanced cardiac imaging, preventative cardiology, and sports cardiology.
Media
Dr. Lee discusses heart health
Dr. Lee discusses sports cardiology