move2perform
Gulf Coast Healthy Living Magazine Volume 4, Issue 4
-
The Andrews Institute
The tearing of an anterior cruciate ligament (ACL) not only once, but twice, almost took one young athlete out of the game forever, but with the right training and accurate testing, Nikolas Strine was able to confidently return to the field.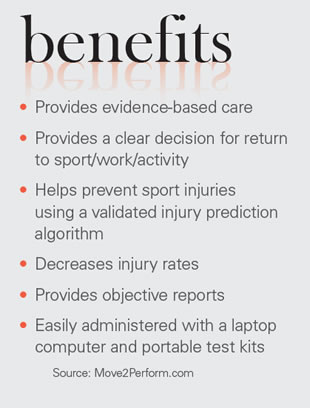 Nikolas Seaton Strine tore his left knee's anterior cruciate ligament (ACL) in September 2012 while playing in a freshman football game for Central York High School in York, Pa. He didn't know it at the time, but this injury would set in motion a series of events that would threaten his ability as an athlete and eventually send him south to the Andrews Institute for Orthopaedics & Sports Medicine.
Move2Perform is a movement measurement and analysis tool that the US military, professional sports teams, the Andrews Institute and other experts use to determine a person's risk of injury. The Move2Perform software features four categories of risk assessment that help determine what should come next in a patient's progression. It also provides corrective exercises that save time and help improve movement deficits that are determined by the functional movement screen.
Physicians and physical therapists are now able to make confident decisions by using the Move2Perform software, giving athletes like Strine the ability to continue to do what they love, injury-free. The Andrews Institute Rehabilitation treats orthopaedic and sports injuries as well as higher level neurological disorders. Move2Perform has become part of the Andrews Institute Rehabilitation protocol following common surgeries
such as ACL reconstruction, meniscus repair, ulnar collateral ligament repair and many more.