APP Week: Dolores Holtmann Helps Patients Bridge Gap to Health Resources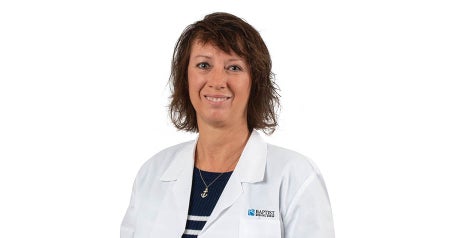 - 10/03/2022
Health care workers often encounter patients who may not have their basic needs met. Those patients may struggle with health challenges too. Dolores Holtmann, APRN-C, is a nurse practitioner who sees a health literacy gap in our community and takes action.

Dolores has been part of the Baptist team for four years and a nurse for 27 years. She works at Baptist Medical Group and with the population health department and as a PRN in urgent care. Dolores works with two other Baptist team members and visits our primary care locations. During these visits they conduct patients' annual Medicare wellness visits.
At each appointment they conduct a health risk assessment with each patient, including:
Fall risk
Psychosocial and behavioral risks
Self-assessment of health status
Frailty
Physical functioning
They make sure that each patient can complete daily activities like:
Preparing food
Paying bills
Taking medications
Shopping
Driving or using transportation
Dolores helps these patients who struggle to complete daily activities or cannot afford food after paying their bills. She and the team share resources and community services available to seniors. If she meets patients who need home health care, she partners with their primary care physician to obtain a referral.
Dolores loves the Baptist culture. "I love that we can walk down the hallways and see our senior management team engaged with patients and workers," Dolores said. "They make us feel appreciated. Everyone here is working toward the same goal of offering the best care possible to our patients. No one here says, 'that's not my job'."
Dolores spent years taking care of patients in a hospital setting. She says that her hospital experience aids her current role tremendously. She especially enjoys h visiting different provider locations every few weeks. She loves talking with patients, getting to know them and helping with resources. Dolores has worked on a variety of projects during her tenure at Baptist. She enjoyed working in the COVID-19 clinics during the pandemic for the same reasons.
When it comes to living the Baptist Way, Dolores always strives to do the right thing and help others however she can. She takes pride in mentoring new nurses and Dolores constantly seeks continuing education and opportunities to learn from her peers.
When asked about her favorite inspirational quote, Dolores shared the serenity prayer. "God, grant me the serenity to accept the things I cannot change, courage to change the things I can, and wisdom to know the difference."
Baptist thanks Dolores for living out its Mission of helping people throughout life's journey. She makes an impact with supporting patients in their greatest needs.