Baptist VOICES in Action: Ben Gibbs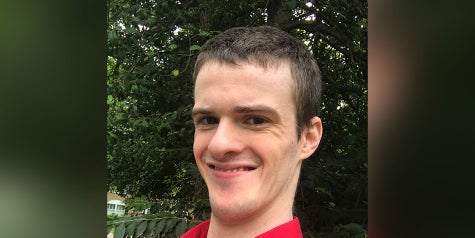 - 3/01/2021
Ben Gibbs can truly identify with our Mission of helping people throughout life's journey. He is an Enterprise Information Technology Services (EITS) trainee with Global Connections to Employment (GCE) stationed in Arlington, Virginia. Ben trains in information technology (IT) subject matter such as software testing, structured query language (SQL), java and other IT topics. He is part of the EITS Academy. Ben most enjoys leading and participating in weekly study groups to help others at GCE in training.

"My favorite part about my team is how loving and supportive we are to one another. We never hesitate to lend a helping hand when needed. We see individual success as team success. When we graduate from the EITS Academy and move onto projects and contracts, that willingness to help others is going to take us individually a long way in aiding GCE and Lakeview Center to carry out its Mission."

For Ben that desire to help his fellow team members and others is a passion. "When I'm helping my colleagues, I don't feel a sense of obligation but rather a genuine passion for helping them, and that's how I connect to our Mission of helping people throughout life's journey."

Here are four fun facts about Ben:
• He earned a bachelor's in fine arts with a concentration in photography from Longwood University in Farmville, Virginia. During his studies, he had the opportunity to take a photography class that documented the 2016 presidential election. He photographed former President Donald Trump in an interview in Virginia Beach and former President Barack Obama at a rally in Greensboro, North Carolina.

• He loves leading SQL study groups. He has a passion for the subject of SQL and possibly becoming a data analyst, so the opportunity to lead the study groups has presented him the opportunity to look at and think about SQL in different ways.

• Before Ben worked at GCE, as an outsider looking in, he had the misconception that tech companies in general mainly revolved around the engineers of the technology. But after working at GCE, he has learned that there is a lot more to it than just building the technology. There are business analysts, quality assurance analysts, data analysts, and those positions play just as big of a role in building the technology as the software engineers do.

• His most recent favorite quote comes from current President Joe Biden: "Don't tell me things can't change." Ben interprets this statement to mean that we can make changes in ourselves, in each other and in our community, and that one shouldn't be afraid to dream big. He applies this to Lakeview Center saying how he and others want to "change our customers' lives for the better and demonstrate the Value of Excellence."

Thank you, Ben, for changing who we are at Baptist and Lakeview Center for the better and for living our Values!