Baptist VOICES in Action: Erica Reed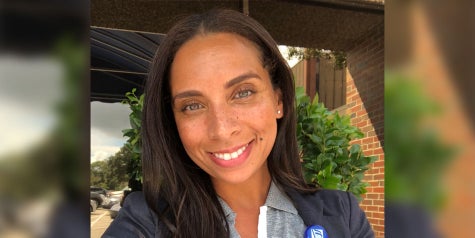 - 2/15/2021
People may think that the claims department at Baptist, or any organization, may include many negative complaints, but Erica Reed, in-house counsel with governance, risk & compliance (GRC), debunks that misconception.

"What I have found in my role in claims is an opportunity to use those moments to change a patient's perception about their experience," said Erica. "I also provide an opportunity for communication, clarity, closure and resolution for both Baptist patients and providers."

Erica oversees management of health care professional liability and general liability claims. In this capacity, Erica directs claim investigations, monitors and controls activities of outside defense counsel, determines liability and compensability and negotiates and helps settles claims with plaintiff counsel.

She finds her work very rewarding and is quick to point out her "awesome team of individuals who are truly committed to the work we do within GRC and working together to carry out a positive experience." She especially loves the Baptist culture as she strives to live the same Values in her personal life. This includes making authentic connections and caring for others to maintain that special connection.

Here are several fun facts about Erica:
She has a six-year-old son named Lorenzo. He enjoys playing soccer, baseball, football, basketball, gymnastics and skateboarding.
Erica is a graduate of Fordham University and NYU School of Law.
While attending college and law school in New York City, Erica performed as a Rockette at Radio City for five years.
In her spare time, Erica enjoys teaching dance and musical theater to youth, teens, and adults throughout the Pensacola community.
Erica likes author of Daring Greatly, Brene Brown, for her inspiring quotes such as, "Because true belonging only happens when we present our authentic, imperfect selves to the world, our sense of belonging can never be greater than our level of self-acceptance."
One of the best projects Erica has been involved with at Baptist is the CANDOR (Communication and Optimal Resolution) program. In this role, she proactively helps patients and providers in achieving fair resolutions in a timely, thorough, and just way when unexpected events cause patient harm. Erica would like all team members to know that GRC has an open door policy and that their team is there for you, helping guide everyone to live and act with our Values of Ownership, Integrity, Compassion, Excellence and Service in mind.

Thank you, Erica, for sharing your insights, living our Values and being a part of our team!