Make Working From Home Work for You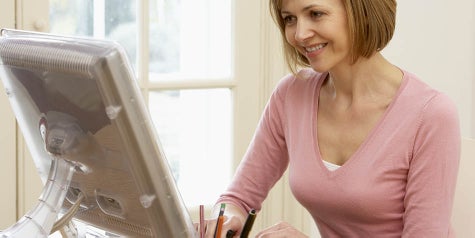 - 4/19/2020
Many of us are on week four or five (or is it week 45?) working from home since the COVID-19 pandemic began. Your kitchen table may be doubling as office space or tripling as a kids' homework and craft station. Under normal conditions, working from home can be challenging, but under stressful times like a national crisis, it may be easy to become distracted and feel less productive. We want to help you be more productive even during these difficult circumstances, and these suggestions may help you work better at home.

1. Create an inviting, uncluttered workspace that is separate from personal areas.
Your work may seem like it's invaded your home, so try to create a separate area where you feel you can connect more to your work. If you have a desk, that's great. Set it up as much like your office desk as possible. If you don't have a desk, then create a space that will work as a desk, even if that means a folding table and chair that you formerly only pulled out for guests. Try not to use your couch or your bed as your workspace so you can keep your personal, relaxing areas separate from your work. Have the supplies you need close by to help you feel organized – paper, pens, sticky notes and a calendar.

2. Get dressed and ready for work.
Although it may be tempting to stay in your pajamas for hours each day, getting dressed in normal clothes or even your regular work clothes will put your body and your mind in the right state to be more productive. Stick to the same schedule you kept while working outside the home. Wake up at the same time. If you exercised before work, be sure to keep doing that. Maintaining the routine will help it feel more normal. Don't let personal hygiene habits go either. When you look your best, you are more likely to feel your best.

3. Communicate often and regularly.
Working remotely means you can't pop your head into a co-worker's office or walk down the hall to ask a question. Now conference calls and video chat meetings are taking place. Open, honest communication is key. Let your supervisor and teams know how you are doing and what you're working on. Talk about how often you should hold your staff meetings and adjust them over time as needed. Some departments may need to "meet" more often than others, such as human resources and legal. Others may only need to meet weekly or several times per week instead of every day. Do communicate often and pick up the phone to call or text when you have questions or concerns. The quicker questions and concerns can be addressed, the quicker everyone knows what to do and can focus on the work and mission at hand.

4. Plan for your work tasks and for personal interactions.
With regular, transparent communication, you can more easily plan your work and also track your work. Each day write a list of what you need and want to accomplish. Keep that list handy so you stay focused during the day. If possible, use a free project management tool to track your work and even the time you spend on each task. As some days may seem to blend into others, keeping a work journal and documenting your tasks and the time you spend on them can really help during a chaotic time. Start your day doing the most important tasks first. For more time-consuming tasks, work on those when you feel the most energized, whether that's first thing in the morning or after lunch. In addition, don't forget to reach out to co-workers and check in with clients or customers you are used to conversing with regularly. Check in with loved ones often too. Make sure they are doing OK and offer to help. Remember, we're all in this – together.

5. Take breaks when you need them to boost productivity.
Being in the same building, home or space all day long can make all of us a bit stir-crazy. Be sure to take breaks and move to a different area when you can. If it's a nice day, go outside for a few minutes in the morning, at lunch and in the evening. Think of the recesses you may have had while in school. They were there for a reason. We all need a break at times. Go for a walk. Do a seven-minute exercise routine using the seven-minute app on your cell phone. Read a book or a few quotes. Listen to a few songs that uplift you. Stretch and focus on your breathing. If you can, make arrangements to call or video chat with your favorite co-worker or friend for 5 or 10 minutes just like you would have done if you were still in your normal workspace. Taking these small breaks throughout the day and evening will help keep up your spirits.

Remember that this stay-at-home while working-from-home situation is temporary. Make it work for you.
Categories:
---
Related Articles: