Partnering with You to Fight COVID-19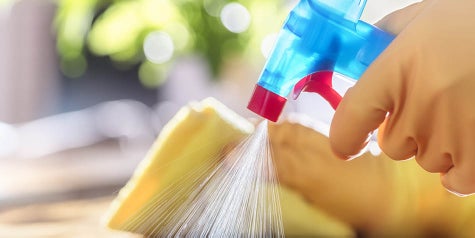 - 3/25/2020
Baptist Health Care is here for you. We want everyone to be safe and protect yourselves.

Tips to Stay Safe and Healthy
Practice good "respiratory etiquette" by covering coughs and sneezes with tissue or elbow. Do not sneeze or cough into your hand because the next surface you touch could become contaminated. Throw away used tissues immediately after use.
Wash hands frequently with soap and water for at last 20 seconds, especially after you have been in a public place or after blowing your nose, coughing or sneezing.
If soap and water are not available, use a hand sanitizer that contains at least 60% alcohol. Cover all surfaces of your hands and rub them together until they feel dry.
Stay home if you are sick.
Avoid touching eyes, nose and mouth.
Get a flu shot.
Avoid close contact with people who are sick and put space between yourself and others. This is called "social distancing."
Clean and disinfect surfaces in your home and office including tables, doorknobs, light switches, countertops, handles, desks, phone, keyboards, toilets, faucets and sinks.
How to Protect Your Mental Health
It's normal to experience fear of the unknown or to have anxiety over events beyond our control. To manage your stress, Dr. David Josephs of Lakeview Center recommends:
Do your research and rely only on facts you gather from credible sources.
Recognize that the constant flow of information can be overwhelming.
Take breaks from the news coverage and social media.
Take deep breaths, stretch or meditate.
Eat healthy meals, exercise regularly, get plenty of sleep and avoid alcohol and drugs.
Make time to unwind.
Talk with people you trust about your concerns.
Call 911 if you are feeling overwhelmed with emotions like sadness, depression or anxiety, or if you feel like you want to harm yourself or others.
Symptoms of COVID-19
Fever
Cough
Shortness of breath


What You Should Do If You Develop These Symptoms
Call your primary care physician before visiting their office so the physician can take precautions can be made to prevent exposing other people.
Review your signs, symptoms and travel history with your physician. Your physician will evaluate you for other possible causes of respiratory illness and determine whether you should be tested for COVID-19.
Resources
CDC.gov
facebook.com/BaptistHealthCare

Escambia County Health Department: 850.595.6500.
(After hours and weekends, call: 850.418.5566)

Santa Rosa County Health Department: 850.983.5200

Florida Department of Health COVID-19 Call Center number: 1.866.779.6121
Baptist Health Care is closely following guidance from the Centers for Disease Control (CDC) and monitoring reports from the CDC for accurate and timely updates.
Categories:
---
Related Articles: