Venturing Out After COVID-19 Restrictions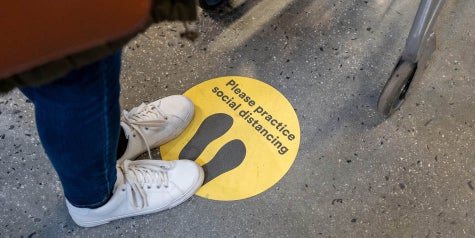 - 5/20/2020
As stay-at-home orders are lifted and businesses open doors again, it's important to keep taking steps to protect yourself from COVID-19. We want to share a few ways you can be diligent about staying safe when it comes to venturing out. This would include traveling, visiting restaurants, going to the gym and more during this reopening phase.

1. Continue practicing and monitoring good hygiene and prevention tips.
As you go out and may be in close contact with others, wear a face mask. Keep a distance of at least 6 feet from others. Avoid close contact with anyone who is sick or has symptoms. Also, avoid large events and mass gatherings. Wash your hands often with soap and water for at least 20 seconds or use an alcohol-based hand sanitizer that is at least 60% alcohol if soap and water are not available. Cover your mouth and nose with your elbow or a tissue when you must cough or sneeze. After you cough or sneeze, wash your hands or use hand sanitizer. Also, avoid touching your eyes, nose and mouth as much as possible.

2. Know your destination's restrictions and go out during non-peak times.
Before you travel within your own city or another city or state, be sure to visit the area's website for specific restrictions and limitations. Know what you're facing and the expectations before you make that trip. If possible, travel during non-peak hours. Get out and explore early or late. Visit first thing in the morning or last thing in the evening instead of the middle of the day whenever possible. If you're over the age of 60, check to see if there are special times reserved for seniors.

3. Call ahead for limited hours and safety measures.
Call the salon, gym or restaurant you've been missing the most these past few months and find out what they are doing to prevent the spread of infection. Are they following the recommended CDC guidelines? Do they have limited seating or different hours now? Has the restaurant removed its salad bar and public fountain drink stations that many people would be touching? Are customers sitting next to each other in a waiting room instead of 6 feet apart? Talk to a staff person or manager and ask your questions to alleviate any worries or surprises before you arrive.

4. Carry cleaning supplies and use your own pen while on the go. Bring cleaning supplies with you and make a habit of wiping down areas that you and your loved ones may encounter – whether it's playground equipment or door knobs and light switches in a cabin or condo rental. Look around your surroundings and ensure that proper hygiene is in place. Make payments on the phone or online whenever possible. If you do have to be in person for a purchase, use your own pen to sign with, and wipe it down after use inside a store or place of business.

5. Choose open spaces and ventilation.
As much as you can right now, visit places that are open air, outdoors or at least well ventilated to help minimize any risks of exposure. If you're visiting an outdoor attraction, such as a state park, find out about the disinfectant practices of the public restrooms. Consider making and bringing your own packed lunches and snacks.

Community life is reopening, and it's important to pay attention to what's happening in your area and the areas you visit because guidelines might change. Ask questions and stay informed. If you feel worried or anxious about a business's safety practices, you can always postpone your visit. Your health and the health of your loved ones is worth protecting.