VOICES in Action: Marvic Goodspeed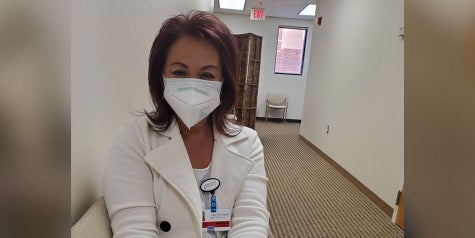 - 3/02/2021
Marvic Goodspeed has worked at Lakeview Center since 1997. She loves her job and how the Mission and core values align with her own.
Marvic's parents are Filipino, and in her family, that notion of serving others is the highest priority. Her family's insistence in serving others is in every aspect of her life— culture, faith, family, and all relationships. She said her father's career in the Navy for 30 years instilled a strong work ethic in her and her brother.
As current staffing director, Marvic has the privilege of interviewing many potential new hires. In each encounter she proudly tells every person about the incredible work that happens at Lakeview Center and Global Connections to Employment.
"I tell candidates that every day I have the honor of working with some of the most dedicated and compassionate colleagues and leaders I have ever worked with, who care deeply about our team members, clients and customers. I hope to inspire those I speak to about coming to work for us and not finding a better organization to join."
Marvic considers her work family to be like family. She said they know her interests and passions. "My team members know that I love playing fantasy football and watching the Hallmark Channel. We have so much camaraderie, support and respect for each other and our organization."
She says she always knew she wanted to be a nurse and never regretted that decision. "I have been very fortunate for the past 10 years to be in the role as director of nursing practice, and I do not take the responsibility lightly. It is very important to me that nurses practice with excellence and professionalism. We should all be involved in developing the best and safest practices and have quality of care and excellent outcomes for the clients we serve. We pledged to do that when we became a nurse, and we must continue to do that always."
Although nurses had even more challenges the past year, in 2020, with COVID-19 and stricter protocols, Marvic said she still proudly serves. "Serving my community in this way and during this challenging time has been very rewarding."
Marvic proudly took the COVID-19 vaccine and is doing her part to promote it to others to ensure safety and the best health outcomes. She and others at Lakeview Center partnered with Community Northwest Florida to vaccinate about 3,000 community members not long ago.
Even when not working, Marvic is serving others in other ways. She volunteers for Special Olympics and St. Vincent de Paul, an organization that offers tangible assistance to the poor, with her husband and three sons. She said "These opportunities have given my life many blessings and much fulfillment."
One of Marvic's favorite quotes is, "Only a life lived for others is a life worthwhile."
Thank you, Marvic, for leading that worthwhile life here at Baptist Health Care and Lakeview Center. We are lucky to have you as a leader and as a member of our family.