Baptist Heart & Vascular Institute's Electrophysiology Lab Earns Accreditation by IAC
PENSACOLA, Fla. (March 28, 2017) – Baptist Heart & Vascular Institute's (BHVI) electrophysiology lab has been granted accreditation by the Intersocietal Accreditation Commission (IAC) in Cardiac Electrophysiology in the areas of testing and ablation, cardiac lead extraction and device implantation.
Accreditation by IAC indicates that BHVI electrophysiology lab has undergone an intensive application and review process and is found to be in compliance with the published Standards. Comprised of a detailed self-evaluation followed by a thorough review by a panel of medical experts, the IAC accreditation process enables both the critical operational and technical components of the applicant facility to be assessed, including representative case studies and their corresponding final reports.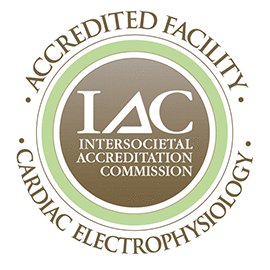 Conducted to relieve symptoms or regulate heart rate and rhythm, cardiac electrophysiology procedures are performed by facilities that specialize in the diagnosis and treatment of heart rhythm disorders. Each year, more than one million cardiac device and ablation procedures are performed for the treatment of heart rhythm disorders worldwide. The practice of cardiac electrophysiology is comprised of specialized diagnostic testing and therapeutic procedures performed by highly skilled health care professionals.
The training and experience of the cardiac electrophysiology specialist performing the procedure, the type of equipment used and the quality assessment metrics each facility is required to measure, all contribute to a positive patient outcome. IAC accreditation is a "seal of approval" that patients can rely on as an indicator of consistent quality care and a dedication to continuous improvement.