Baptist Heart & Vascular Institute Celebrates 500th Watchman™ Procedure
10/31/2022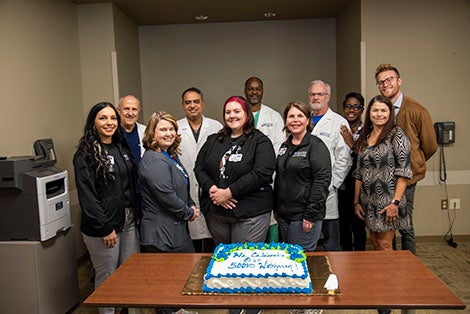 Baptist Heart & Vascular Institute cardiologists, advanced practice providers and BHVI leadership gathered Oct. 21 to celebrate the performance of its 500th Watchman™ procedure. The procedure is a potentially life-saving treatment for people with atrial fibrillation who are at risk for having a stroke.
"Today's celebration represents a tremendous milestone for BHVI. We introduced the Watchman™ procedure to Northwest Florida in 2016, and it has proven to offer great benefit to the people in this community who need this level of advanced care," said Jorge Parodi, vice president, Baptist Heart & Vascular Institute.
Patients who may be considered for the Watchman™ procedure have non-valvular atrial fibrillation and are at increased risk for stroke. Atrial fibrillation, or AFib, occurs when the upper chambers of the heart beat out of sync with the lower chambers, causing sporadic heart palpitations that can allow blood to stagnate in the left atrial appendage and eventually clot. These clots can break away and enter the blood stream, causing a stroke. AFib patients are five times more likely to have a stroke.
The Watchman™ device is threaded through a vein in the leg and into the heart where it is implanted at the opening of the left atrial appendage. It serves as a barrier to prevent clots from entering the blood stream. The procedure is performed under general anesthesia in the heart catheterization laboratory and usually lasts about an hour followed by a 24-hour hospital stay.
Baptist introduced the Watchman™ procedure to Northwest Florida in 2016. For more information about the Watchman™ and other treatment options available at the Baptist Heart & Vascular Institute, visit http://www.ebaptisthealthcare.org/heart. For appointments, call 850.484.6500.