Baptist Medical Group Rheumatologist Eugene Jalbert Earns National Recognition from Vasculitis Foundation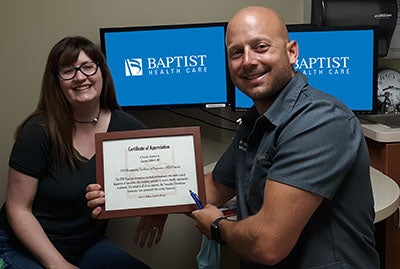 Baptist Medical Group rheumatologist Eugene R. Jalbert II, D.O., MBA, FACR, has been honored with a certificate of appreciation from the Vasculitis Foundation's 2020 Recognizing Excellence in Diagnostics (RED) program.
The RED program celebrates medical professionals throughout the United States and around the world who make a quick diagnosis of vasculitis, potentially prompting a life-saving result. Dr. Jalbert's patient, Cheyanna Welch, nominated him to recognize the service she received at Baptist Medical Group – Rheumatology.
"Early detection is the key with a condition as serious as vasculitis," Dr. Jalbert said. "We are grateful that Cheyanna is doing well and appreciate her gesture of recognizing me in this way. At Baptist Medical Group – Rheumatology, we are dedicated to helping people throughout life's journey, and the care Cheyanna received reflects that commitment."
Baptist Health Care is a community-owned, not-for-profit health care organization based in northwest Florida that is committed to helping people throughout life's journey. The organization is a proud member of the Mayo Clinic Care Network. A 2003 Malcolm Baldrige recipient, Baptist continuously strives to be a national leader in quality and service. Baptist Health Care includes three hospitals, four medical parks, Andrews Institute for Orthopaedic & Sports Medicine, Footer link to Lakeview Center and a large network of primary care and specialty physicians. With more than 7,300 employees and employed physicians, Baptist Health Care is the second largest non-governmental employer in northwest Florida.
Baptist Health Care ● Baptist Hospital ● Gulf Breeze Hospital ● Jay Hospital ● Lakeview Center ● Baptist Medical Park – Nine Mile ● Baptist Medical Park – Navarre ● Andrews Institute ● Baptist Medical Group ● Cardiology Consultants ● Mayo Clinic Care Network
CONTACT BELOW IS FOR MEDIA USE ONLY
For more information about this press release or to schedule an interview, please contact Kathy Bowers at 850.791.5254 or BHCMediaRelations@bhcpns.org