Baptist Medical Group Rheumatologist Eugene Jalbert Earns National Recognition from Vasculitis Foundation
5/21/2020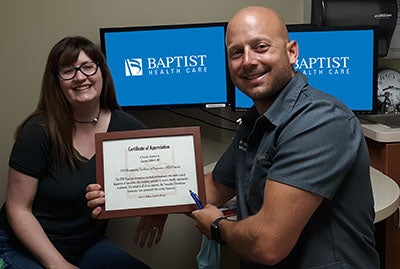 Baptist Medical Group rheumatologist Eugene R. Jalbert II, D.O., MBA, FACR, has been honored with a certificate of appreciation from the Vasculitis Foundation's 2020 Recognizing Excellence in Diagnostics (RED) program.
The RED program celebrates medical professionals throughout the United States and around the world who make a quick diagnosis of vasculitis, potentially prompting a life-saving result. Dr. Jalbert's patient, Cheyanna Welch, nominated him to recognize the service she received at Baptist Medical Group – Rheumatology.
"Early detection is the key with a condition as serious as vasculitis," Dr. Jalbert said. "We are grateful that Cheyanna is doing well and appreciate her gesture of recognizing me in this way. At Baptist Medical Group – Rheumatology, we are dedicated to helping people throughout life's journey, and the care Cheyanna received reflects that commitment."
Baptist Health Care is a not-for-profit health care organization based in northwest Florida that is committed to helping people throughout life's journey. The organization is a proud member of the Mayo Clinic Care Network. Baptist continuously strives to be a national leader in quality and service. Baptist Health Care includes three hospitals, four medical parks, Andrews Institute for Orthopaedic & Sports Medicine and a large network of primary care and specialty physicians. Baptist Health Care is one of the largest non-governmental employers in northwest Florida.
Baptist Health Care ● Baptist Hospital ● Gulf Breeze Hospital ● Jay Hospital ● Baptist Medical Parks Airport, Nine Mile, Navarre and Pace ● Andrews Institute ● Baptist Medical Group ● Baptist Heart & Vascular Institute ● Mayo Clinic Care Network