Baptist Medical Group Welcomes Post-Acute/Long-Term Care Physician Peter M. Manis, M.D., FACEP
6/08/2020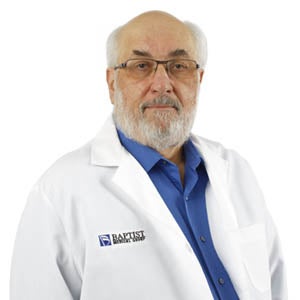 Baptist Medical Group is pleased to welcome board-certified physician Peter M. Manis, M.D., FACEP, to its senior health program and expansive physician network. As a physician specializing in post-acute and long-term care, Dr. Manis is exclusively dedicated to caring for patients in rehabilitation and nursing facility settings.
Dr. Manis earned his medical degree at John Hopkins School of Medicine and completed both his internship in internal medicine and residency in ophthalmology at the Greater Baltimore Medical Center in Baltimore.
Along with a dedicated team of nurse practitioners, Dr. Manis provides compassionate care while meeting the unique needs of older adults. More information is available on Dr. Manis' profile page at BaptistMedicalGroup.org or by calling 850.437.8600.
Baptist Health Care is a not-for-profit health care organization based in northwest Florida that is committed to helping people throughout life's journey. The organization is a proud member of the Mayo Clinic Care Network. Baptist continuously strives to be a national leader in quality and service. Baptist Health Care includes three hospitals, four medical parks, Andrews Institute for Orthopaedic & Sports Medicine and a large network of primary care and specialty physicians. Baptist Health Care is one of the largest non-governmental employers in northwest Florida.
Baptist Health Care ● Baptist Hospital ● Gulf Breeze Hospital ● Jay Hospital ● Baptist Medical Parks Airport, Nine Mile, Navarre and Pace ● Andrews Institute ● Baptist Medical Group ● Baptist Heart & Vascular Institute ● Mayo Clinic Care Network
CONTACT BELOW IS FOR MEDIA USE ONLY
For more information about this press release or to schedule an interview, please contact Kathy Bowers at 850.791.5254 or BHCMediaRelations@bhcpns.org