Baptist Medical Group Welcomes Urologist Timothy Brand, M.D., FACS
11/19/2020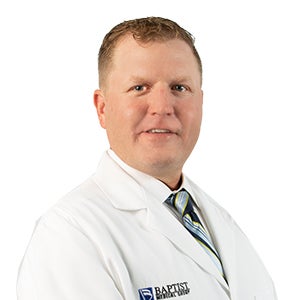 Baptist Medical Group is pleased to welcome retired United State Army Colonel Timothy Brand, M.D., FACS, to its multispecialty physician network. Dr. Brand is a board-certified urologist and offers convenient quality treatment to patients by specializing in treating and diagnosing a wide scope of urologic conditions.
Dr. Brand joins Baptist Medical Group – Urology from Madigan Army Medical Center in Tacoma, Washington, where he provided care as a urologic oncologist. He earned his medical degree at Tulane University School of Medicine in New Orleans and completed an internship in surgery and a residency in urology at Tripler Army Medical Center in Honolulu. He completed a fellowship in urologic oncology at the University of Texas Health Science Center in San Antonio. Dr. Brand is board certified in urology by the American Board of Urology and is a fellow with the American College of Surgeons.
As part of the Baptist Medical Group – Urology practice, Dr. Brand welcomes new patients at his office located at Baptist Towers, 1717 North E St., Suite 430, in Pensacola, Florida. He will work in partnership with urologists Beth Cruit, M.D.; Ryan Miyamoto, M.D.; and Daniel Ballow, M.D.
More information about Dr. Brand is available at BaptistMedicalGroup.org or 850.437.8711.
Baptist Health Care is a not-for-profit health care organization based in northwest Florida that is committed to helping people throughout life's journey. The organization is a proud member of the Mayo Clinic Care Network. Baptist continuously strives to be a national leader in quality and service. Baptist Health Care includes three hospitals, four medical parks, Andrews Institute for Orthopaedic & Sports Medicine and a large network of primary care and specialty physicians. Baptist Health Care is one of the largest non-governmental employers in northwest Florida.
Baptist Health Care ● Baptist Hospital ● Gulf Breeze Hospital ● Jay Hospital ● Baptist Medical Parks Airport, Nine Mile, Navarre and Pace ● Andrews Institute ● Baptist Medical Group ● Baptist Heart & Vascular Institute ● Mayo Clinic Care Network