About Pastoral Services
The Department of Pastoral Services provides chaplain services to patients, families, and staff members of any or no denominational or religious affiliation at Baptist Hospital. We do not impose a particular set of beliefs on anyone; rather, it is our mission to assist people to make use of their own spiritual resources as they deal with health care issues.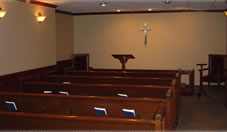 The Earl R. Gaston Memorial Chapel is located on the ground floor of Baptist Hospital. the chapel is open 24 hours a day for prayer and meditation.
"Pastoral Care relates to people irrespective of their creed, social position or prestige. It is the concern shown for the needs of men [and women] in every walk of life; from the bricklayer to the structural engineer, from the Olympic star to the paraplegic, from the school girl to the grandmother. Whether in the prime of health or incurably ill, in joy or sadness, in good times or bad, there may be a need for pastoral care. The clue to the need is the recognition of the point where life's stress and strain affect body and soul. It deals with people but particularly it deals with people in trouble. Pastoral care is shared compassion." — Principles and Practices of Pastoral Care, Russell L. Dicks (1963)
What do Chaplains do?
Chaplains provide ministry to patients and families on a variety of occasions: chaotic events of traumas in the emergency room; the tense hours in the waiting room; during the struggle of recovery from accident or illness; during the celebration of the birth of a child; while rejoicing over good news from a test or procedure; during the anxiety of impending surgery; and in those moments of grief and loss. The chaplain is there to offer support and compassion. The chaplain seeks to connect people to the resource of faith and spirituality as they face life and death issues. Through the use of both process and presence, the chaplain offers comfort, strength and hope.
How to contact a Chaplain?
A chaplain is available in the hospital 24 hours a day, seven days a week. Patients may reach a chaplain by asking their nurse to contact Baptist Hospital Department of Pastoral Services, or by dialing "0" and asking the hospital operator to page the chaplain. Outside of the hospital, please call 850.434.4011 and ask for the duty chaplain, or call the pastoral services department at 850.469.2363.