Baptist Medical Group Primary Care - Pine Forest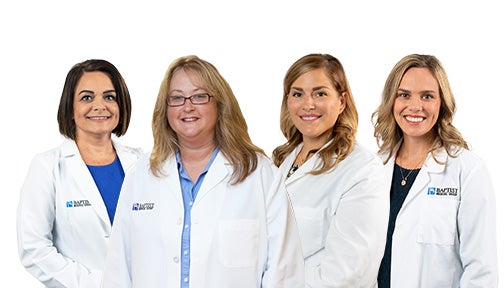 New Patient Paperwork
DEPARTMENT OF BAPTIST HOSPITAL
The newest Baptist Medical Group clinic, Baptist Medical Group Primary Care - Pine Forest location allows individuals an increase in access to high-quality health care in Pensacola's Pine Forest and surrounding communities, where our patients live and work. This clinic offers comprehensive health care for individuals and families and focuses on quality, one-on-one patient care. Our board-certified providers along with their team, specialize in family health care and can diagnose, treat, and write prescriptions for acute illnesses.
Our Clinic
Baptist Medical Group Primary Care – Pine Forest provides comprehensive health care for individuals and families in the Pine Forest and surrounding communities. Our practice is centered on quality patient care between you and our board-certified family medicine providers.
Medical Services
We offer a full scope of treatment options for a variety of conditions, including minor aches, pains, bruises, scrapes, bites, colds, sinus infections, earaches, diabetes management, and other ailments.
Our Providers
Our providers are all board-certified family medicine providers who offer quality, convenient primary care. To learn more about our providers, we invite you to visit their profile pages.
Our Staff
While visiting our office, you will meet with several of our team members. Our front-office team will help you get settled and complete your paperwork. They'll also confirm your arrival with our clinical team and can start your care.
Comprehensive, Coordinated Care
Because we uNow Opennderstand that the best care is given with the patient's complete history in mind, our providers and clinical team will work with any of your specialist physicians to coordinate the best care possible. If you come to our office and do not have a primary care provider, our team welcomes the opportunity to help you establish care with one of our many Baptist Medical Group providers.
New Patients
We're so happy to have the opportunity to provide you with the compassionate, personal health care experience you deserve. To ensure you have a pleasant first office visit, we ask that you please download and complete your new patient paperwork prior to your appointment. Bring your completed paperwork along with the items provided in the "What to Bring" section below. Please also be sure to review the full "Appointment Information" section. As always, you can contact our office with any questions.
Appointment Preparation
To save you an extra step at the office, we encourage all new patients to download our new patient paperwork forms on this page. You can do so by clicking the button to the top left. Simply print and fill out the forms, and bring them completed to your appointment. There also may be a few additional items for you to sign upon arrival at your appointment.
What to Bring
Please bring your completed new-patient paperwork, a valid photo ID, your current insurance card, and any current prescriptions or medicine you're taking to your appointment. You are always welcome to bring a significant other, family member or caregiver with you to your appointment.
Arrival
To help you have the best possible experience at your appointment, we ask that you please arrive 15 minutes prior to your scheduled appointment time.
Missed Appointment
To ensure we are able to continue to provide the personal care you expect from a Baptist Medical Group provider, we request that you notify our office with at least a 24-hour notice whenever you are unable to keep your appointment.
Most Insurances Accepted
We accept most major insurance plans and invite you to call our office to learn the financial details specific to your insurance coverage.
Our Financial Policy
It's our policy that co-payments, co-insurance, deductibles, and any outstanding balances are due at the time of service. This means that you will be expected to pay those items (as defined by your insurance policy) while at our office for your scheduled appointment. For your convenience, we accept payments in cash, check, or credit card.
It's important to note that you are financially responsible for the care you receive, even if your insurance does not pay. If you have questions, we encourage you to contact our office, and our staff will do everything we can to serve you.