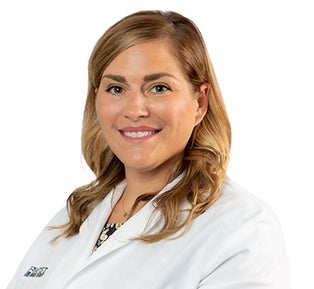 ---
RATINGS & REVIEWS
The provider star rating is calculated using patient reponses to the five care provider questions in our patient satisfaction survey. Below you can see the provider's star rating and the number of his or her patients who have provided feedback.
4.7
Provider discussed treatment options
---
4.7
Provider showed concern
---
4.7
Provider explained things clearly
---
4.6
Provider included you in decisions
---
4.6
Likelihood of recommending this provider
---
---
Comments
6/18/2022
Very good
---
6/11/2022
Good Dr
---
6/04/2022
First time seen Dr. Heather Ross! She is wonderful!
---
6/02/2022
Dr. Was very attentive and caring. [...]
---
5/27/2022
Great experience
---
5/25/2022
I talked and she really listened and not in a judgmental way, but in a "let's figure this out" way. I never had a dr who didn't make me feel like I was waisting my time talking to them. I left feeling like she really wanted my health to improve and there was a way to get there to get there.
---
5/19/2022
Dr. Ross is perfect for me.
---
5/19/2022
I have never had a Doctor that has such good bedside manner as Dr.Ross. I have had some bad visits before with primary's and she has really eased all of my concerns just in one visit.
---
5/19/2022
Very happy with Dr. ROSS
---
5/17/2022
Dr. ROSS always listens and takes my concerns seriously. She explains any thing I am unclear about.
---
5/17/2022
Good
---
5/11/2022
First visit with Doctor Ross . Listened and was present Efficient but still I felt heard
---
4/30/2022
Dr Ross is very attentive, caring and concerned. I lucked out finding her!
---
4/21/2022
Excellent care provider and staff.
---
4/14/2022
Dr Ross was amazing! She listened to what I had to say and showed concern for what I was telling her.
---
4/07/2022
As always, a very good experience.
---
4/04/2022
Dr. Ross was amazing. I had several things I wanted to discuss and she listened and addressed all of them.
---
4/03/2022
Good
---
4/01/2022
I have complete confidence in Dr. Ross.
---
4/01/2022
Very conversational. Felt like she listened to me as a patient
---
Biography
Heather Ross, M.D., is a highly-skilled, board-certified family medicine physician and former lieutenant commander and physician with the United States Navy. She provides quality and convenient health care to the entire family and provides minor in-house procedures. She and her dedicated team are currently welcoming new patients.
Medical Degree
Indiana University School of Medicine
Camp Lejeune, NC
Residency
Indiana University School of Medicine
Indianapolis, IN
Certifications
American Board of Family Medicine
United States Medical Licensing Exams, Step 1, Step 2 CS, Step 2 CK, Step 3
Memberships
American Academy of Family Physicians
Uniformed Services Academy of Family Physicians