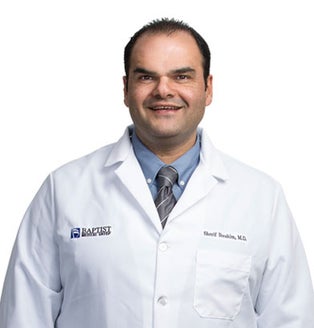 ---
RATINGS & REVIEWS
The provider star rating is calculated using patient reponses to the five care provider questions in our patient satisfaction survey. Below you can see the provider's star rating and the number of his or her patients who have provided feedback.
4.8
Provider discussed treatment options
---
4.9
Provider showed concern
---
4.9
Provider explained things clearly
---
4.9
Provider included you in decisions
---
4.9
Likelihood of recommending this provider
---
---
Comments
9/18/2023
Good
---
9/11/2023
Dr is great to ask if I have any questions or need any thing.
---
9/01/2023
Excellent discussion and answers to questions. Dr. Very clear in explanations and description of care.
---
8/24/2023
Dr. Ibrahim and his entire staff are outstanding, caring, and easy to talk to.
---
8/22/2023
Very good
---
8/20/2023
Dr Ibrahim great!
---
8/19/2023
Dr. Ibraham is always very attentive.
---
8/16/2023
Dr. Ibrahim is extremely knowledgeable, concerned, friendly, and committed to the best care possible for his patients.
---
8/11/2023
Always good experience
---
8/09/2023
Listened that I have incredible pain in right hip so getting mri
---
7/02/2023
He was happy about my improvement in my lab test
---
6/27/2023
This was a good non-problematic visit
---
6/19/2023
Excellent
---
6/18/2023
This physician is simply wonderful!
---
6/05/2023
Dr Ibrahim is great. He has treated me the last 3 years for [...] such caring doctor. Always had time and patience with me to answer question. He is the best.
---
5/31/2023
This office is run efficiently
---
5/30/2023
Grand Dr.
---
5/27/2023
Most of time spent with doc. Absolutely would recommend to others.
---
5/18/2023
Dr Ibrahim is an outstanding doctor. He's always professional, kind, considerate and honest. I'm so very lucky to have him as my doctor.
---
5/08/2023
Everything went great
---
Biography
Dr. Sherif Ibrahim is a fellowship-trained member of Baptist Medical Group's oncology team. He became an oncologist because he wanted to touch people's lives and help them during a difficult time. You can count on Dr. Ibrahim to get to know you and treat you – the person – and not just the disease. He welcomes new patients in Pensacola and Gulf Breeze.
Medical Education
Alexandria University, Egypt
Residency
Internal Medicine, University of Arkansas for Medical Science
Little Rock, AR
Fellowship
Hematology-Oncology, University of Arkansas for Medical Science
Little Rock, AR
Board Certification
Internal Medicine
Hematology-Oncology

Meet your Doctor
What led you to become a doctor or choose your focus of medicine?
To touch people's lives during a hard phase of their life. I lost my parents to cancer, so I understand the impact of the diagnosis and treatment on the patients and their families. It helps me to see the need of my patients and do my best to help them through this difficult experience.
What's your proudest moment as a doctor?
When I help my patient to achieve his or her goal.
In your opinion, what's the most important factor in a doctor-patient relationship?
Clear, constant and honest communication that leads to trust.
What do you find most encouraging about the work you do?
I am so encouraged by all the advances in the field of Hematology-Oncology – the new supporting drugs that help the patients tolerate the chemotherapy with minimal side effects, the new targeted therapy, and the advances in the diagnostic tools.
What are your top priorities with every patient you see?
To get to know the people I care for and meet. To treat the patients, not just the disease.