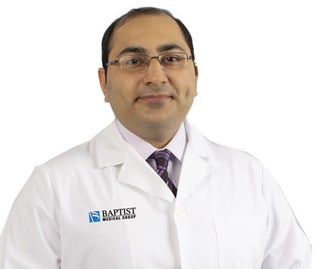 ---
RATINGS & REVIEWS
The provider star rating is calculated using patient reponses to the five care provider questions in our patient satisfaction survey. Below you can see the provider's star rating and the number of his or her patients who have provided feedback.
4.7
Provider discussed treatment options
---
4.8
Provider showed concern
---
4.8
Provider explained things clearly
---
4.8
Provider included you in decisions
---
4.8
Likelihood of recommending this provider
---
---
Comments
5/25/2022
Very good
---
5/19/2022
Dr jafri has treated me very good with sincerity compassion an just beening there when ever I needed him treats my family with the upmost respect
---
5/12/2022
Excellent
---
4/27/2022
Excellent
---
4/13/2022
I am very happy to add Dr. Jafri to the team of doctors I now have .
---
4/07/2022
The staff and doctor are outstanding
---
4/05/2022
Good
---
4/05/2022
Personable, professional, pleasant . . . . Excellent communication skills . . . Appreciated
---
4/02/2022
Dr Jafri has a wonderful bedside manner. I felt very comfortable around him and feel reassured about my health problem.
---
3/31/2022
Dr Jafri is always very informative and explains thoroughly what is to follow. I would highly recommend him to friends
---
3/31/2022
Dr. Jafri is very attentive and concerned about any issues I may have.
---
3/30/2022
Dr Jafri was an excellent teacher. I very much appreciate his explaining my anemia health issues in detail.
---
3/15/2022
As I said previously, Dr Jafri was caring, informative and listen's very well.
---
2/25/2022
Always good
---
Biography
Dr. Imran Jafri is a highly skilled; fellowship-trained hematologist oncologist as well as board-certified internal medicine physician. He specializes in providing the best care to patients with all types of cancers at Baptist Medical Group – Hematology & Oncology. Dr. Jafri and his dedicated staff offer compassionate and dedicated health care and currently welcome new patients.
Medical Degree
King Edward Medical University
Lahore, Pakistan
Residency
Internal Medicine, Abington Hospital Jefferson Health
Abington, PA
Fellowship
Hematology and Oncology, University of Connecticut
Farmington, CT
Board Certifications
American Board of Internal Medicine
American Board of Internal Medicine - Oncology
American Board of Internal Medicine - Hematology
Memberships
Diplomate American Board of Internal Medicine
American Society of Clinical Oncology
American Society of Hematology
American College of Physicians
Meet the Doctor
What led you to become a doctor or choose your focus of medicine?
What I love about hematology-oncology are the connections I develop with my patients and their families. Making sure, they understand their diagnosis and help them make the best treatment decisions. Being there for my patients is my highest priority
What about your line of work do you find most rewarding and why?
The time I spend with the patients and being there during the highs and the lows of cancer care is what I find rewarding.
What is something about you that only your patients would know?
I am extremely approachable and easy to communicate with. My patients know I am always available for them and their families.
What is your proudest moment as a doctor?
My proudest moments are when I hear from patients or their families that they are happy with the care.
In your opinion, what is the most important factor in a doctor-patient relationship?
To make sure the patient and their families feel that their concerns are heard and addressed.
What can a patient expect when they have you as a doctor?
Someone who is going to be an advocate for them through a difficult disease course.
What do you find most encouraging about the work you do?
We have more to offer our cancer patients in terms of treatment options in the last few years. Keeps me motivated to continue learning about the fascinating new developments.
What are your top priorities with every patient you see?
To make sure they understand their diagnosis and natural history of the disease as well as to ensure they are comfortable in communicating their questions or concerns.
Describe one of the top ways you ensure each patient receives the quality, personal health care he/she deserves.
I always pay special attention to the things that matter to them the most whether it is the quality of life or making sure they can travel.
Do you have any specific medical interests?
Gastrointestinal Cancers, Lung Cancer, Genitourinary cancers along with other malignancies