Second Chance at Life Leads to Weight Loss Journey and Enhanced Wellbeing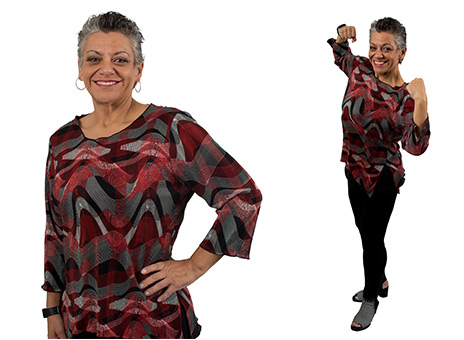 After spending half her life taking care of others, Chontel Baillie's body began to fail her at age 48. She had always been overweight and now had high blood pressure and sleep apnea. Baillie also suffered from a degenerative disease that caused her vision loss. After a cornea transplant operation and restored sight, Baillie became determined to put her health first.
"God was giving me a chance to get my life back so I became determined to get my body back," said Baillie. "After all, there would be no point putting these working eyes in a body that would fail them."
She met with the Baptist Weight-Loss Center team to see if their weight loss procedures would be the right choice for her. Baillie chose to have bariatric surgery in December of 2015.
Baillie said she connected with Patrick Gatmaitan, M.D., bariatric surgeon, instantly.
Dr. G and I are on the same spiritual level. He understood my realistic goals and he's been very supportive. Chontel Baillie
Baillie's highest weight was 385 pounds. Two years after her surgery, she is now at 169 pounds and maintaining.
Within two weeks of surgery, Baillie was moving around and walking up to three miles per day.
"I felt zero pain after my surgery," said Baillie. "I felt great and now you can always find me at the gym."
Baillie now enjoys helping other people be passionate about their health.
"I'm a member of the YMCA and I try to help others," said Baillie "I stay active through a fitness group. I also swim, do water aerobics and encourage others with better eating habits."
Baillie said the Baptist Weight-Loss Center caregiving team helped give her the right tools to start her weight-loss journey but the rest was up to her.
"I had to change my lifestyle and my mindset, or I knew I would not succeed," said Baillie. "I just decided to do it. I had been too busy working and not living. I was a single parent raising kids and feeding myself junk to get through the days but then my body was beginning to fail me. So now I am at the gym taking care of my body so I can be around to see my grandchildren grow."
Baillie keeps old photos of herself around to motivate her on days that she needs a reminder of how far she has come. Her positive attitude continues as she lives more fully each day and encourages those she meets to take control of their health.
Baillie said being mentally and emotionally ready to handle weight loss has kept her on the right path. She was given a set of new eyes. Since then, her new focus is to enjoy a second chance at life.