Campbell Trims Waist, Gains Confidence After Years of Yo-Yo Dieting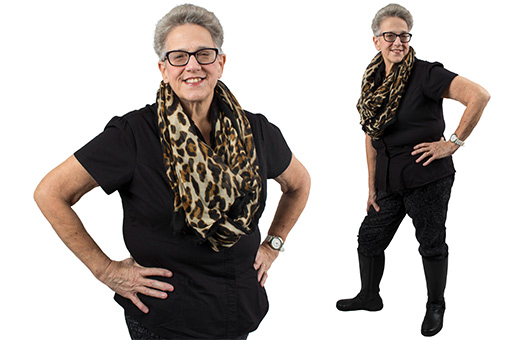 At age 16, Jennifer Campbell tried her first weight-loss program. She then spent years of losing weight and then gaining it back, including various diets and nutrition plans while living overseas and starting a family. After experiencing extreme low energy and having high blood pressure, Campbell sought help from the Baptist Weight-Loss Center in October of 2014.
For more than 40 years, Campbell went back and forth between unhealthy eating habits and what she refers to as "yo-yo" dieting.
I knew I needed to do something serious about my weight problem, I had been battling weight issues for most of my life so my primary care physician suggested I look into possible surgical procedures. I researched and heard many praises about the Baptist Weight-Loss Center, especially bariatric surgeon Patrick Gatmaitan, M.D Jennifer Campbell
Campbell said that after the first session with Dr. Gatmaitan and his team, she walked away with her questions answered and a follow-up appointment. She later decided she would undergo bariatric surgery.
Campbell then became serious about following the Baptist Weight-Loss Center's recommended nutrition plan prior to the scheduled surgery.
"It was emphasized that I show I was serious about my weight loss,"" said Campbell. "I was assigned a six-month regimen and a diet plan I needed to follow. It worked. I lost 84 pounds prior to surgery in May of 2015, a day before my 57th birthday.""
Campbell continued to lose more pounds, up to half her body weight after the surgery. She went from 330 pounds to 165 pounds, a size 26-28 in women's to a size 14 in misses.
Since her weight loss journey, Campbell said she feels better, has an improved self-esteem and enjoys shopping for clothing now.
"I advise others who have had long-term weight problems to check on the possibility of having weight-loss surgery," said Campbell. "It is worth the achievement of looking and feeling better, being healthier and shopping easier."
Campbell said the Baptist Weight-Loss Center team was always available to her, just a phone call away. She said that whether her weight went up or a down a little, she was always met with encouragement.
"Baptist Weight Loss Center's team continues to be helpful and friendly," said Campbell. "They helped me become a much leaner, better me. My life has drastically improved so much since my first visit there, through the surgery and from the great support they continue to provide."
Campbell lost half her body weight. More importantly she gained confidence and a better outlook in life.
"Every day is a challenge," said Campbell. "I work very hard to eat right and keep my scale happy because my life and health is so much better. I don't hurt when I walk anymore and I'm completely off my blood pressure medicine. I've gained confidence and can now walk into any store and not worry about the larger sizes being available. I'm happier with myself and my accomplishments."