Weight Loss and Positive Attitude Helps Reverse a Lifetime of Unhealthy Habits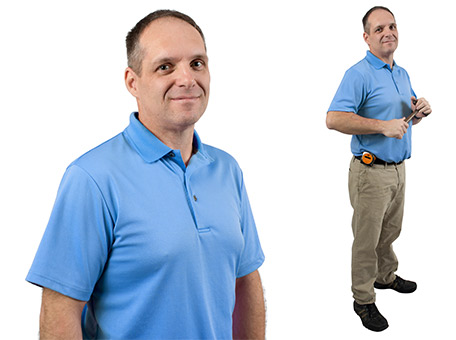 Weight loss is not just a journey for women. By the time Ty Williams was 45 years old, his health had rapidly declined with high blood pressure, sleep apnea, high cholesterol and an all-time high weight. Unhealthy habits had long been a part of Williams' culture growing up in Huntington, West Virginia, known as being one of the "fattest America cities."
"My whole environment came from learning and enforcing bad eating habits that had made the people in my region fat," said Williams.
At the recommendation of his primary care physician, Williams scheduled an appointment with the Baptist Weight-Loss Center team. In February of 2016, Williams met with Patrick Gatmaitan, M.D., bariatric surgeon, Ashton Wilkins, bariatric dietician and their team to discuss the right path for his health.
The Baptist Weight-Loss Center team is wonderful. Dr. G was amazing, even gave me his personal cell number. Their staff generally cares about me and knows who I am. I'm not just a number or another patient. Ty Williams
Williams had bariatric surgery in August of 2016 but his journey began six months prior to that following an educational program created by bariatric dietician Ashton Wilkins.
"Six months before surgery I met with Ashton to learn better nutrition planning," said Williams. "I kept a food journal and it really made a difference. That's why after surgery I was able to stay on the plan. I lost twenty pounds prior to my surgery and that helped with ease of surgery and post-op recovery."
The nutrition plan at Baptist Weight Loss Center helped to not overwhelm Williams when he first began.
"Each month they helped me work on my diet a little bit at a time – giving me one or two things to adjust, to wean me from my bad habits," said Williams.
Williams returned to work three weeks after surgery. He went from a size 42 pants to 30 pants and lost 105 pounds. Less than a year after surgery, Williams stopped using his sleep anea machine and all pills for his former health problems.
"I didn't need them anymore," said Williams. "I feel fantastic, like I'm back in high school. My energy levels are good. Before my surgery, I would lie around and want to sleep. Now I stay active."
Williams credits his love for his family as the main motivating factor for him to undergo the weight loss journey.
"My wife was my inspiration, especially when she told me she was concerned about my health and wanted me around past age 50," said Williams.
Williams and his wife Jaime, sons Aaron and Corey, now all enjoy more time together at the beach and local scenes. In addition, Williams believes his weight loss has increased his confidence and led him to a promotion at work.
"As I began to change physically, I also began to see myself mentally differently" said Williams. "I began to speak up more and be a leader. That eventually led me to a store manager promotion.""
Williams' inspiring story even encouraged a fellow co-worker at his store to inquire about the surgery. He referred this teammate to the Baptist Weight-Loss Center who also had weight-loss surgery and is now seeing positive results.