Hyperbaric Oxygen Therapy
Hyperbaric oxygen (HBO) therapy is a treatment in which the patient breathes 100 percent pure oxygen while inside a pressurized chamber. The air pressure inside a HBO chamber is about two and a half times greater than the normal pressure in the atmosphere. This "hyperbaric" (or high pressure) dose of oxygen helps your blood carry more oxygen to your organs and connective tissues to promote wound healing. It also activates the white blood cells to fight infection.
HBO treatment is an outpatient procedure used in combination with other treatments. It is provided once daily, for approximately four to six weeks. One treatment takes about two hours and is quite comfortable for most patients.
*Our hyperbaric chambers are for wound care only.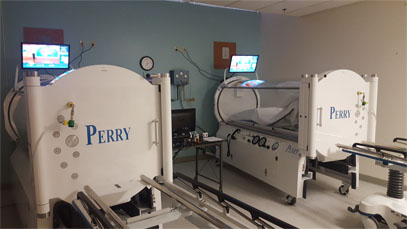 Approved indications for HBO therapy include:
Diabetic wound of the lower extremity
Chronic refractory osteomyelitis (chronic bone infection)
Osteoradionecrosis (late side effect of radiation – bone)
Soft tissue radionecrosis (late side effect of radiation – soft tissue)
Compromised skin grafts and flaps
Acute peripheral arterial insufficiency
Acute traumatic peripheral ischemia
Progressive necrotizing infections
Crush injuries and suturing of severed limbs (acute)
Gas gangrene (acute)
Gas embolism
Acute carbon monoxide intoxication
Actinomycosis
Idiopathic sudden sensorineural hearing loss
Insurance coverage varies and our staff will work with your insurance to make all necessary arrangements.
For more information about wound care management and hyperbaric medicine, call 850.434.4479.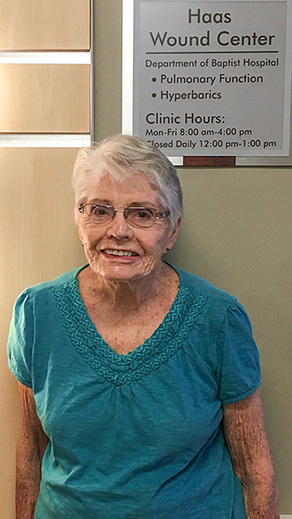 Sarah Kellen
Patient Testimonial
"This staff has been very professional and knowledgeable as well as friendly and personally involved. The nurses have years of experience, and they are careful caregivers, cleaning and preparing the wound before re-wrapping. In summary, I have been pleased with the extended treatment I have received – scheduling by Samantha; cleaning and wrapping by Dan, Myra and Lenora; overseeing by Abby, and managing the chamber by Brian. My wound was particularly challenging because the tissue had been radiated, making it difficult to heal."
Read excerpts from Sarah's poem below.
Since last December to the Wound Center I have come
This place seems like my second home
The staff here has made me feel
There was hope that my awful wound would heal.
---
At age 91 I'll start life anew
Thanks to you for helping me through.