VOICES in Action: Liz Liggett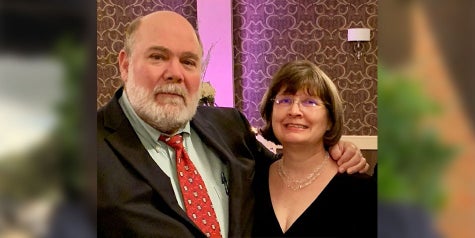 Liz Liggett is in her "second career" as a nurse at Behavioral Medicine Center (BBC). Her first career was as an industrial engineer. She worked at United Airlines in Chicago before finding her way to being a nurse. She's been here for 10 years and first worked on the youth unit. In her current role she is responsible for ensuring that BMC team members are up to date with needed education and training. Liz also oversees quality enhancement of behalf of BMC.
Liz was drawn to work at Baptist because of the reputation she heard about. She said that "leaders instill a culture that makes me feel at home." Liz comments that from entry-level to the CEO, the Baptist environment is one always goes back to the Mission of helping people throughout life's journey.
For Liz and the BMC team, that mission is particularly focused on mental health and helping people in often dire situations. She credits her amazing team – the mental health nurses, technicians and therapists - for making so many extra efforts to give patients a better experience and outcome.
To make that possible, Liz and her team place emphasis on quality and education. She works closely with leaders and staff to recognize areas where quality can be improved and then develop processes to make their work better.
Liz has also taken advantage of the Life Long Learning program offered through Baptist. In the program, Liz has obtained her bachelor's in nursing as well as a psych mental health nursing certification.
One of Liz's favorite projects has been being able to attend Trauma Informed Care (TIC) training through the U.S DOH, Substance Abuse and Mental Health Services Administration. and bring back those TIC practices to her BMC team. Their team has been trained on these practices that are evidence-based for producing better outcomes for patients with mental health diagnoses.
Liz loves how the acronym VOICES spell out the Baptist Values of Ownership, Integrity, Compassion, Excellence and Service. She said, "The Values help me to follow the right path of care for my patients and my teammates. I find that when I try to live by our Values, I do have more of a voice in the organization."
Liz leads by example and makes sure her team knows that her door is always open, and she is always there to help. One of her favorite Bible quotes says, "do justice, and love kindness, and walk humbly with your God" from Micah 6:8. She and her husband, Hamp, an engineer, have two grown children. Their kids live in Minnesota and Hawaii.
Thank you, Liz, for living and leading with our Values and for the positive impact you make in every encounter.