Baptist VOICES in Action: Rahul Dasari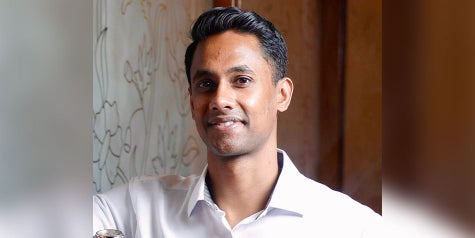 Rahul Dasari is living his dream. He works as an occupational therapist for Andrews Institute at Baptist Medical Park – Nine Mile. He is a hand therapist who also treats a patient's entire upper extremity, from the shoulder to the fingertip. Rahul helps serve those faced with congenital conditions, neurological disorders, tendinopathies, traumatic injuries as well as everyday living challenges for the aging population.
His family immigrated to the U.S. from India to Tampa in 1994. Rahul's father was also an occupational therapist. His mother was a cardiologist. Both parents passed on their love of caring for people and helping individuals realize their potential. Now with his beautiful wife, Jillian, Rahul plans to pass on those Values of Compassion and Service for others in their family.
Rahul credits his fellow team members, such as Stephanie Cook and Marta Brinkley, at Andrews Institute for mentoring him and supporting him in his educational endeavors.

"Hand therapy is a niche and specialized field," said Rahul. "A goal of mine is to become a Certified Hand Therapist (CHT). This is a certification that less than 6,500 people hold worldwide. Baptist currently has four members. The hand therapy team here at Andrews have developed a mentorship program that pairs current CHTs with aspiring ones. With support of leadership they have provided a path for people like me to attain this cherished title."
Rahul loves the culture at Andrews Institute. Daily, he witnesses the ways leaders act, to be the best they can for their teams as well as patients. Rahul said that therapy is "rarely pain-free, but despite that, there is an air of optimism in the room." When patients finish their last therapy session, they ring a graduation bell for their accomplishment. After that bell rings, cheers and applause fill the room. The experience is gratifying for all and motivating for patients in the room still on their journey to healing.
Rahul's favorite book is The Alchemist by Paulo Coelho. It tells the story of a boy in search of his dreams. The book is filled with incredible quotes, such as "When we strive to become better than we are, everything around us becomes better too."
Thank you, Rahul, for being a part of the Baptist Health Care family, for living our Values and for helping others reach their dreams of returning to an active lifestyle through the work you do.