Couple Receives the Watchman Device Together, Making Heart Health and Partnership a Priority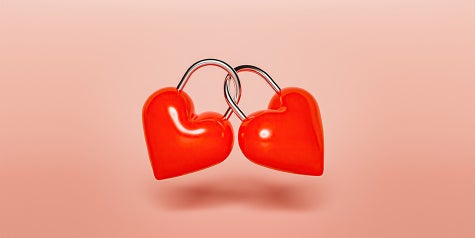 Earl and Marrianne Zimmerle are true partners in life. The couple met while working together in Pittsburg in 1961. Earl made it very clear that he was interested in Marrianne. "I was sitting in the cafeteria at the plant we both worked at, and I couldn't take my eyes off of her, and she could tell," Earl shared.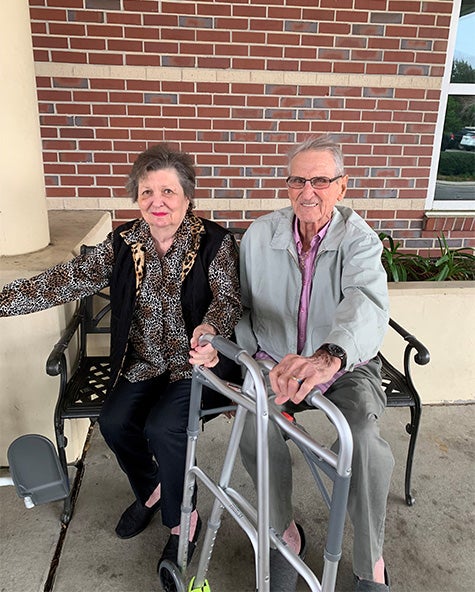 The couple married and raised three children, two sons, Scott and Brian, and a daughter Mary Beth and then moved to the Gulf Coast in 1997. They have enjoyed being active members in their church, participating in various festivals and activities throughout the years in the Gulf Breeze community. "I also enjoyed playing golf at Tiger Point but have stepped back from playing due to mobility constraints and my atrial fibrillation (AFib)," Earl said. AFib is when the upper chambers of the heart (atria) quiver or flutter. This irregular beating causes the blood to move inefficiently through the heart.
"We used to go and do things all the time, but as we aged, it's the simpler things we enjoy now, (such as) time with our kids and grandchildren; Kyle, Katie, Megan, Sam, Brian, Bryce, and Ean and now our 6-week-old great-grandchild, Eleanor," Marianne shared. The couple also enjoys going to church and out for lunch when they are physically able.
This partnership of 60+ years understands the importance of maintaining a healthy marriage and a healthy heart. "My wife and I are not only partners in life but also in watching our health and caring for each other daily," Earl said. The Zimmerle's see the same cardiologist, Sumit Verma, M.D., FACC, at Baptist Heart & Vascular Institute and have been taking the same blood thinning medication for their hearts. Due to their age, Earl's AFib, and medication, Dr. Verma told them they would both be good candidates for the Watchman procedure.
The Watchman procedure is a treatment that may reduce the risk of strokes in people with atrial fibrillation and often has the added benefit of eliminating the need for blood thinning medications. "The actual implanted device is a self-expanding, nickel-titanium frame with fixation anchors and is covered by a surgical fabric (it looks like a tiny jellyfish)," said Dr. Verma. "The Watchman device can be threaded through a vein in the leg and into the heart and serves as a barrier to prevent clots from entering the bloodstream."
Earl and Marrianne were pleased to learn they could have the procedure done on the same day. "When we first met with Dr. Verma and reviewed my wife's symptoms and discussed the procedure and potential benefits of Watchman, I asked if I could have one too," Earl said. "Dr. Verma said, 'Absolutely, and we can schedule you both at the same time,' which made it so much easier for us." The couple went to the hospital together the morning of the procedure, checked in and waved to each other as they were transported to the procedure room.
"The team at Baptist was great and made sure to keep us close to each other both before and after surgery," Marrianne said. "We both thought it was an interesting experience to be in the hospital together and a little humorous wearing matching hospital gowns. The procedure was quick, and the recovery wasn't bad. We were in the hospital for a day, and then we were back to our usual selves within a few days."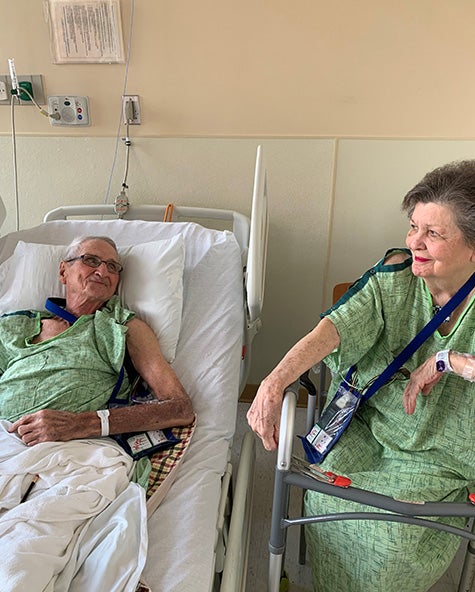 Because of the Watchman procedure, Earl and Marrianne hope to be able to take less heart medication and enjoy all that life has to offer. Due to Dr. Verma and the compassionate heart team at Baptist, the couple stayed together so they could comfort each other before and after the procedure. This helped their hearts literally heal quicker. "I'm looking forward to the days ahead and spending more time with my wife and family, and I'm considering playing golf again," Earl said.
The couple has prioritized heart health and hopes to inspire others to do the same. For more information about the Watchman procedure and other treatment options available at Baptist Heart & Vascular Institute, visit ebaptisthealthcare.org/heart. For appointments, call 850.484.6500.
Categories:
---
Related Articles: