Katina's COVID-19 Patient Story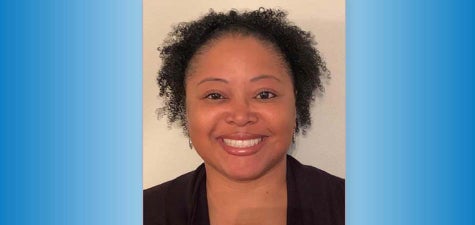 Katina Hand has been working in social services for more than 19 years. She teaches foster parent classes and is passionate about educating others about how to care for families.
In July of 2021, Katina experienced a role reversal when she became a COVID-19 positive patient and had to be cared for at Baptist Hospital. She joined her husband, Paul, who had been admitted there a day prior.
"My husband, Paul, was admitted first to Baptist Hospital," said Katina. "He has a history of blood clots and managing diabetes. He was feeling very ill for several days, but my symptoms came later. At first, I managed my symptoms at home with over-the-counter medications. Eventually, though, I became so fatigued just trying to brush my teeth and pack a hospital bag. I have a history of high blood pressure and arthritis, so I finally called 911 for the paramedics to take me to the hospital. I remember it being a long ride to the emergency room."
Katina said while she waited for a room to open, the staff at Baptist Hospital were compassionate and helpful. She recalls how they kept encouraging her to move around as she was able to do so, to keep up her strength.
"In the waiting room, I kept remembering the core Values at Baptist — Ownership, Integrity, Compassion, Excellence and Service, which I learned from being a Lakeview Center employee. I could even picture CEO Mark Faulkner reciting them because everyone I encountered was living out those values. So many people came and went, but the same values were displayed with each person and every encounter with me."
Katina said she had pneumonia in her lungs upon arrival. She described how an IV was placed in her to begin treatment. Once the staff learned that Katina's husband, Paul, was also a patient on the same floor, they made sure to keep them both updated on each other's progress. They even arranged daily patient visits together.
"They would wheel Paul into my room or guide me into his so we could visit with each other. The staff continually checked on us, being so mindful that we both had COVID-19 and were worried about each other. When Paul was discharged first, they helped me see him off."
Now that Katina has been home for nearly six months, she reflects on the experience at Baptist further. She jokes that it was an "all-inclusive" package for a hospital stay because of the great care she received and being able to "order food from the list of options."
"I am so appreciative of the staff who cared for us, prayed with us and shared in what we went through. I know it had to be so draining for them putting on all that gear each time they entered our room and then taking it off and doing it again for the next patient. I saw team members do this repeatedly without any indication of frustration or being tired. Every single person who came in to see me was pleasant and caring. I will never forget that."
"For weeks after, I would be out of breath just from talking. My energy would be zapped after doing small tasks that never bothered me before. I have scar tissue on my lungs. Paul's sense of smell took a long time before it returned to normal."
Despite their health journey, Katina remains grateful for the experience and for Baptist taking care of her family. She and Paul have a new appreciation for life and being healthy. They later chose to be vaccinated and had their round of COVID-19 vaccines in November of 2021.
"My favorite scripture is Proverbs 3, 5 and 6. To paraphrase that, it reminds us to trust in the Lord with all your heart and lean not into your own understanding. God was with Paul and me during those encounters. I believe God gave those team members at Baptist the compassion and determination to care for COVID-19 patients like us and others, and I'm so grateful they did."
Katina was determined to share her story in case it helps others. She also wants the team at Baptist to know how much she appreciates the care and kindness that was bestowed upon her and her family. She thanks Baptist for putting people first and for helping her continue her life journey to better health.