Sharon's Kidney Transplant Story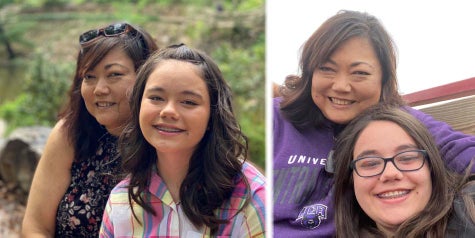 For many people 2021 was not a year of good health, but for Sharon Lafountaine, her health journey took a dramatic turn for the better. After more than four years of waiting for a kidney transplant, Sharon received a matching donor.
Sharon has been a team member with Baptist for over 20 years. She is point of care coordinator in the lab at Baptist Hospital. Sharon has battled health issues since 2007 and has been on dialysis since 2017.
Despite the challenges she's faced daily for years, Sharon rarely misses work and always comes in with a smile and eager attitude to help others. She tries to remain positive, saying that her Baptist family and own family helps her stay encouraged. Sharon recalls the day and the moment she received the sudden news of obtaining a kidney donor.
"It was a day I'll never forget," Sharon said. "On June 29, I received a call from the University of Arkansas for Medical Sciences (UAMS) on my way home from work. UAMS had a match for me, but I had to leave right then and be there by the next morning for the procedure to happen."
She still remembers how her heart began to accelerate after hearing the news. The moment had arrived, the one she had been waiting for, after four years of being on multiple donor lists at various hospitals to receive a new kidney that matched her blood type and situation. Sharon and her family quickly packed a few bags and drove all night to be there in time for it to occur.
Sharon chose UAMS because its location was near her parents' home. They let her stay with them for the six to eight weeks of recovery time needed after the transplant. Sharon had to stay close to where the procedure occurred for follow-up appointments and check-ins with the medical team at UAMS.
"I was lucky that the call came during the summer so my 12-year-old daughter could stay with me since school was out. My husband stayed with us for the first three weeks of my recovery, and then he returned home and went back to work while I remained another three weeks before I was released."
The moments after the transplant were not as exciting as the call she received when she was offered a kidney. Sharon recalls feeling dizzy and being in pain after surgery. She needed help getting in and out of bed. In time, though, she gained strength and began to move around more easily.
Now six months after her transplant, Sharon is feeling great. She has more freedom and mobility than ever before.

"I have so much more energy now. I'm not tied to a machine anymore. I can travel more easily. I also have a bit more freedom in what I eat. My medications are less than what they used to be, and some may even go away completely over time. I've been losing weight, as my previous condition caused me to retain fluid."
Sharon says with her increased energy, she has even more appreciation for each new day. She recalls how her Baptist family continually checked in with her after her procedure when she was recovering.
"Everyone in the lab called to check in on me or sent me messages to let me know they were thinking of me and praying for me. Everyone was just so happy for me to finally have the transplant. They knew what a long battle it had been for my family and me. I just feel so blessed and lucky to be where I am now."
Thank you, Sharon, for sharing your story with us. We are so glad to hear you are feeling great and enjoying an even better quality of life.