VOICES in Action: Akiko Hashida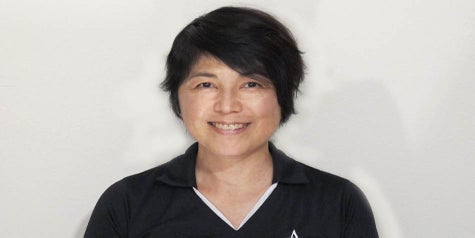 Akiko Hashida joined Andrews Institute in October of 2017. She is the customer experience coordinator and serves as liaison between patients, families and team members. In her role she encounters all types of people and believes it is an honor to interact with everyone to reflect the reputation and image of Andrews Institute.
Akiko was born in Tokyo, Japan and raised in Kagoshima City. During school through Kagoshima Girls High School, she became an international exchange student. Through that program she lived in Davis, Illinois from 1985-1986 in her 12th grade school year. She describes the programs as "a Japanese version of Future Homemakers of America." Akiko was one of only two students chosen to live with an American family who managed a dairy farm. It was through that experience that the American spirit fueled Akiko. After graduating from both American and Japanese high schools, she majored in English at Kagoshima Immaculate Heart College. She received her associate degree and began work for an American financial company in Tokyo in 1989.

"I kept dreaming of coming back to the USA after my experiences as a young girl. Then in 2007, I attained a visa through The Diversity Immigrant Program, aka the green card lottery. This was after applying for 13 years. My husband and I then chose Gulf Breeze, Florida to live and raise our four sons. We love the wonderful people and beautiful nature here."
Akiko first worked in hospitality at a local hotel. She learned finances, sales, administration and customer service knowledge through that experience and still continues to learn in her role at Andrews Institute.
She recognizes her work family as the biggest asset of being a team member at Andrews Institute. Akiko said they put those they serve first, from the moment they walk into the facility until they the second they leave.

"We are a family here, and we communicate well. I love being a part of the compassionate team who cares for others."
Akiko says that a smile is the universal language of understanding and compassion. She learned that early on, even while she was still learning English. She still remembers that today and is sure to greet every person she meets with a smile. She enjoys being the go-to person to bridge the way between patients, their families and services at Andrews Institute.

She strives every day to learn something new. Since COVID-19, she has been involved in the daily schedule sheet updates that include the number of patients expected, scheduled appointments and more details which has helped enhance daily flow knowledge while following CDC guidelines.
Akiko advises others to have a positive attitude. She said, "It will make your future brighter. Plus, life is too short, so enjoy every single moment of it."

Akiko, we sure enjoy having you as a part of our Baptist Health Care family. Thank you for living our Values and for all the positive impacts you make with every encounter you have with people we serve.