Health Articles and Resources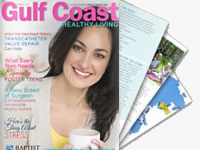 Gulf Coast Healthy Living highlights many of the topics that are so essential to living full, happy and healthy lives here on the Gulf Coast.

Baptist Health Care is pleased to share a valuable community education program that strives to provide programs and services focused on adults, 50 years of age and older, absolutely FREE.
Assessments, Exams and Reminders

It's time to get your flu shot
Spring means the return of insects. Make use of this quick tutorial to keep your hours outside bit and sting free.
The best way to protect you and your family from the flu is to get vaccinated. According to the Centers for Disease Control (CDC), flu season commonly peaks between December and February. Experts recommend that you get your flu shot as soon as it is available.
The CDC recommends a "TAKE 3" action plan to fight the flu.
Get your flu vaccine.
Take every day preventive actions to stop the spread of germs, such as hand washing, avoiding others when sick and covering coughs and sneezes.
Take flu antiviral drugs if your physician prescribes them.
Make an appointment today with your primary care physician and get vaccinated.
If you need a primary care doctor, call Baptist Medical Group at 850.437.8600 or visit BaptistMedicalGroup.org.
Baptist Urgent Care – Nine Mile also offers flu shots, seven days a week, 7 a.m. to 7 p.m. Call 850.208.6130 or walk in.
It could happen to you.

Approximately 17 percent of people on prescription pain medication become addicted over time. It can happen to anyone. Discreet medication-assisted treatment options are available. Call The Summit Group, a specialty practice of Lakeview Center, and ask about medication-assisted treatment using Suboxone® at 850.437.8952, or visit eSummitGroup.org.