Spring Clean Your Health in Six Steps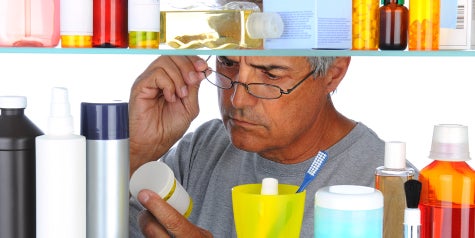 - 4/09/2019
With more daylight hours and warmer temperatures, you may have the urge to organize and spring clean. These six tips will help put you on the path to a healthy season.
1. Annual exams – Be sure everyone in your family schedules an annual preventive medicine check-up with a primary care physician. If you've been dealing with chronic conditions, preventive care like screenings and immunizations may have fallen off your schedule, but keeping up with preventive care is important for catching problems early or preventing them altogether. If you don't have a doctor, visit EasySchedule.com to find a primary care physician who meets your family's health care needs.
2. Screenings – Ask your doctor about important screenings at your annual checkup. For example, if you're 45 or older, it's time to schedule a colonoscopy. This screening is the key to preventing colorectal cancer. If you have a family history of colorectal cancer or colon polyps, you might want to begin screening earlier. Your doctor can help put you on a schedule to have appropriate screenings.
3. Dust removal – Dust mite allergy is a common allergy that causes sneezing, runny noses and asthma. To alleviate these symptoms or avoid the allergy altogether, wash linens, bedding and curtains regularly in water that is at least 130 degrees Fahrenheit. Regularly vacuum any carpet areas you encounter daily, and wipe down flat surfaces such as fan blades and book shelves. If symptoms include difficulty breathing or continue for longer than a week, visit your doctor.
4. Medicine organization – Take stock of your prescription and over-the-counter medications. Organize your medicine cabinet. Don't keep medicines you no longer use or ones that are expired. Follow the disposal instructions on the drug label or patient information that accompanies the medication.
5. Medicine lists – Make a list of all the medications you currently take, along with the doctors who prescribed them, and keep it with you in your purse, wallet or cell phone app. Do the same for each member of your family. If your child takes medications, make sure his or her school has an updated list. Ask your doctor for a recommendation on what over-the-counter medications you should have on hand for your family.
6. Meditation – Clear your head by learning to meditate. According to Mayo Clinic, meditation is considered a type of mind-body complementary medicine. It can help carry you more calmly through your day and can even improve certain medical conditions. A few short meditation breaks throughout the day is all you need to relieve stress and start reaping the benefits of your inner calm.
We hope these healthy tips will allow you to make the most of your spring. Visit EasySchedule.com or call 850.437.8600 for personal assistance with choosing a physician.
Categories:
---
Related Articles: