APP Week: Wanda Radford Strives to Empower Each Patient in Health Care Decisions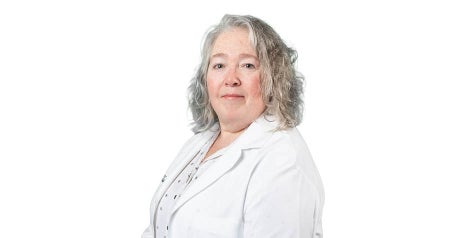 When it comes to health, each person wants to feel empowered with knowledge. It's important to understand the ins and outs of a medical diagnosis in order to make educated decisions about health care. That's just the approach that Wanda Radford, APRN-C, uses with her patients at Baptist.
Wanda joined the Baptist team in February 2021 and works as a nurse practitioner with the cardiology team. She works in noninvasive cardiology, which she describes as the internal medicine of cardiology. Wanda sees patients for consultations and helps to admit or transfer hospital patients as needed. She also performs hospital rounds to check on patients admitted with cardiology needs.
"I feel like my job is to educate patients about their cardiac problems," Wanda explains. "I never want a patient to simply follow me or an explanation I offer. I want to educate them in simple terms so that they understand the disease process and can then make a decision about what they want in terms of care."
Wanda received some great advice early in her career and puts in into practice every day. "As a provider, your most important skill is listening," she explains. "Your patient is telling you what's wrong, and your training will help you determine what that is. But you have to listen."
Although she has only been with Baptist for a year and half, she feels her role here has brought her full circle in life. "I was born at Baptist Hospital in 1969 while my father served in Vietnam," Wanda says. "I was raised here and graduated from Escambia High in 1987. I have two sisters and one brother. My sweet momma is still with us and lives over on the west side of town. I am blessed!"
Wanda enjoys working for Baptist because the team feels like an extension of her family. Physicians and team members all support one another and maintain a focus on patient care. She jokes that it's almost a commandment, "Thou shall not fail the patient." She loves being part of a team where everyone is working together toward a single goal.
Wanda also shared that she has confidence in her role because she knows Baptist is leading the way in cardiology care for our region. She knows that she is part of a team who provides cutting-edge cardiac procedures with positive patient outcomes.
And Wanda is passionate about sharing her knowledge and experience with others. She enjoys participating in conferences and meetings with other health care organizations. In fact, Wanda will represent Baptist soon when she speaks on cardiology care at several organizations in our community.
When it comes to living the Baptist Way, Wanda strives to make every patient feel like they deserve the highest level of care and concern – because they do! "The Baptist Values are at the very core of our calling in medicine," Wanda says.

Baptist thanks Wanda for living out its Mission of helping people throughout life's journey. She is making a difference and helping patients be more empowered in health decisions.