Back to School Health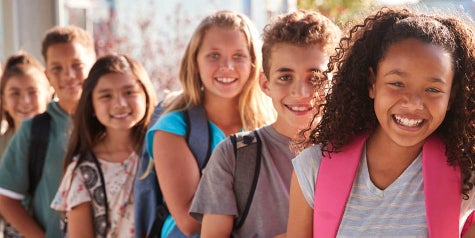 School started back up again for many people across the community. What are good things to know to keep kids healthy as they are back in classrooms? Molly Marshall, R.N., shares these tips to be more mindful about helping kids be healthy physically, socially and mentally.

Back to school health tips include:

Focus on nutrition
Proper nutrition is important in a child's diet, especially when it comes to success in learning and focused activities. Be sure your children are obtaining a balanced diet of healthy foods. If you have a picky eater at home, continue to introduce new foods or reintroduce foods that the child may not have tried previously. Be a good role model for health and eat nutritious foods that children will emulate. Practice healthy eating habits and try to avoid using food as a reward.

Know the risks that school children face
School age children may face certain health risks on a regular basis. Common things that can occur in many schools include the spread of head lice and common colds and viruses. Teach your children good hand hygiene techniques and the importance of covering the mouth and nose when coughing or sneezing. Keep backpacks clean and regularly wipe them down along with school lunch boxes and water bottles. Try not to encourage sharing of equipment or clothing. Be mindful of behavioral changes for any concerns at school that could be due to a greater problem like bullying. Kids may have a more serious physical issue like poor vision or scoliosis that could affect learning. Book a primary care physician for an annual wellness exam and make sure your child can thrive physically, mentally and socially.

Make sleep a priority
Receiving adequate sleep is very important to overall health, especially for school children. If a child seems tired, anxious or not focused, find out if he or she is sleeping well. Most children need anywhere from eight to 10 hours of sleep per night. Make sleep a priority by having a consistent bedtime routine for kids and for you. Go to bed at the same time each weekday and wake up in enough time so that rushing around to be on time for school is not a concern. Limit the time spent on electronic devices. Turning those devices off at least an hour before bed can help children and adults sleep better.

Be a partner in a child's education, health and wellness
Be a partner in your child's education. Talk to kids about specific happenings that go on during school. Ask their likes and dislikes so you can look for signs of health concerns. Get to know your child's teacher(s) to discuss the strengths, weaknesses, learning styles and other concerns that you have. Having these conversations early is critical to children's school success and healthy development.

Do your part to help protect school age children. Follow these back to school health tips to help kids, families and friends have a successful, healthy school year ahead.
Categories:
---
Related Articles: