Cochlear Implant Patient Returns to Dancing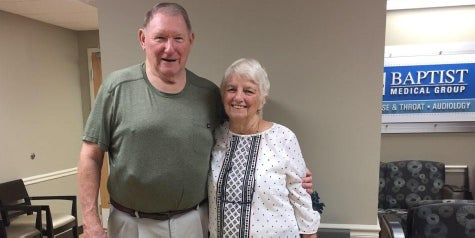 Talking in the car with a loved one and dancing to music are two simple pleasures that many of us can enjoy. Margaret "Peggye" Todriff spent more than 50 years unable to do either.

Todriff lost her hearing at age 24, but in May of 2018 she underwent a cochlear implant surgery. Cochlear implants are medical devices that improve the ability to hear and understand speech for people with severe to profound sensorineural hearing loss. The implant bypasses damaged hair cells in the cochlea and stimulates remaining nerve fibers directly through the application of an electrical current.

A month after the surgery, the cochlear implant was activated via the use of an external processor and Ms. Todriff was able to hear her husband for the first time in 50 years. A few months later, Ms. Todriff was fit with a compatible hearing aid on her other ear that can be synchronized with the cochlear implant processor. The combination of the cochlear implant/processor along with a compatible hearing aid maximizes her ability to hear in complex listening environments and in quiet settings.

"All of a sudden my husband was talking and I finally heard him," said Todriff. "We cried together."

The emotional journey to regain hearing has brought Todriff a more positive outlook.

"There's a new spark in life, and I'm never bored now," said Todriff. "I find something new and interesting every day. I love it."

She and her husband talked all the way home in the car after her implant was activated in June. Todriff has also started dancing again. She and her husband Terrance of more than 55 years even attended a karaoke event recently.

"I listen to music all the time around the house now," said Todriff. "Simon and Garfunkel is one of my frequent favorites I play."

Baptist audiologist Marie Viens, AuD, said Ms.Todriff had a non-functional ear and she reached a point when hearing aids provide very little or no benefits.

Viens performed an audiology test on Todriff in September to adjust and fine tune her hearing aid so it would work even better with the cochlear implant processor.

"Patients have to relearn how to listen," said Viens. "In our follow up sessions we gradually increase the stimulus in an attempt to maximize our benefits. The goal is to make speech more audible for Mrs. Todriff."

Todriff is very appreciative of the audiology team and caregivers at Baptist Medical Group – ENT.

"Everyone here at this group is great, and their support of me really matters," said Todriff.

Besides helping her patients hear clearer and more efficiently, Viens also makes them aware of resources available to the hearing impaired, as the goal is to make them as successful as they can be. She gave Todriff suggestions for captioning on electronic devices, aural rehabilitation and free telephone services, just to name a few.

Feeling connected to others is what drives Todriff to better appreciate life and be more active in her community. She and her husband recently attended a neighborhood meeting.

"I went to our homeowner's association meeting, and I heard every word," said Todriff.

The meeting was in a crowded room and had multiple sounds coming from different directions. Her beaming smile showed that hearing those neighbors was such a gift. Todriff has no intention of slowing down or sitting quietly in the car anymore.

To see if you are a candidate for a cochlear implant or to make an appointment with a Baptist Medical Group – ENT specialist or audiologist, call 850.432.3467.