Enjoy More Gratitude in the New Year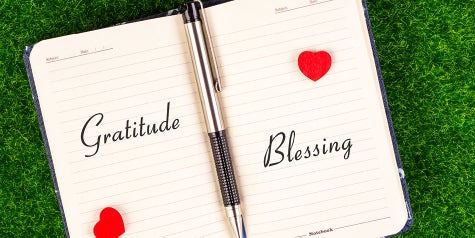 New Year's is the perfect time to reflect on all the things we have, to pause and consider the things that we are most grateful for in our lives. Gratitude gives us an opportunity to acknowledge the good things, big or small, tangible or intangible, that we encounter daily.

According to Positive Psychology, "gratitude is strongly and consistently associated with greater happiness. Gratitude helps people feel more positive emotions, relish positive experiences, enjoy better health, deal with adversity and build strong relationships."

At Baptist Health Care, we offer these three tips to help you express more gratitude all year long:

1. Make a gratitude list. - List what you are grateful for and encourage others to join you. Observe your feelings when you and others acknowledge the reason behind the gratitude. Having a list like this is great to reflect on from time to time and to pull out as a reminder later on an active or stressful day.

2. Gratitude visit - Go beyond a quick, verbal thank you. Write a short note explaining what you are thankful for and the person or group/organization you feel has given you a sense of gratitude. Instead of sending it, visit that person or group and read your thoughts to them, if possible. Notice if this makes a bigger impact in relaying your thanks. Direct contact can often mean so much more than an email, social media post or letter in the mail.

3. Gratitude huddle – Have a daily or weekly huddle to share those things you are grateful for with your loved ones and co-workers. Find something positive each time you meet and acknowledge that feeling in front of others. We believe you will notice an enhanced attitude and a more positive environment.
Have a wonderful start to your new year filled with gratitude. Take time to nourish yourself and uplift others.