Recipe: Cauliflower Fritters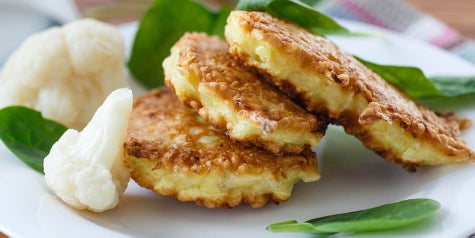 - 7/05/2019
Try serving up a side of cauliflower with this delicious, healthy fritter recipe.

Ingredients
1 head of cauliflower, steamed and chopped finely (about 3 and 1/2 cups)
1 cup of whole wheat flour
2 eggs
2 cups of shredded cheese (your choice for favorite type)
1/3 cup of warm water
1/2 teaspoon garlic salt
dash of pepper
cooking oil (olive oil or coconut oil)

Directions
Steam cauliflower for about 10 to 12 minutes on the stove. Remove from heat, and let it cool before chopping into fine pieces. In a large mixing bowl, combine the chopped cauliflower, whole wheat flour, eggs, cheese, water, garlic salt and seasonings. Stir well with spoon or your hands. Form mixture into small patties, about 3 inches wide. (Makes 10 to 12 patties). Set aside.

Heat a large skillet on the stove at medium high. Use about 1/8 cup of coconut or olive oil for the bottom of the pan. When the pan is hot, place cauliflower patties in skillet. Cook on one side for seven to 10 minutes. Flip over and cook the other side for five to seven minutes. (Note: You can cook more than one fritter at a time in the skillet).

Transfer cooked fritters to a serving dish. Serve as a side to a main meal.

You can freeze any leftovers for up to three months. Remove from freezer and simply reheat in the skillet.

Makes 10 to 12 patties. Serves six to eight people.
Categories:
---
Related Articles: