Recipe: Pizza Zucchini Casserole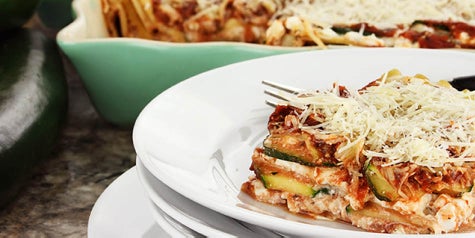 - 6/03/2019
Ingredients
4 medium size zucchini, sliced into lasagna size noodles (about 35-40 noodles)
1 pound of ground meat (ground turkey or lean beef)
6-8 slices of uncured, nitrite free pepperoni (Choose an all-natural brand like Applegate Farms), broken up into pieces
2 and 1/2 cups of tomato sauce (natural, sugar free)
2 tablespoons olive oil for seasoning and greasing the pan
1 teaspoon garlic powder
1 teaspoon onion powder
4-5 dashes of sea salt

Directions
In a skillet, brown your ground meat. While meat is cooking, slice (don't peel) the zucchini into lasagna size "noodles" as best as you can. They don't have to be all the same size. Some can be thinner or thicker than others. Once your meat is almost done cooking, add in your broken up pieces of pepperoni. Stir and cook for another minutes with the meat.

Lightly grease a 2.5 quart baking pan with olive oil. Preheat your oven to 400 degrees.

Place zucchini noodles at the bottom of the pan, covering most of it as best as you can. One layer equals about ten to twelve noodles. Now place meat over the zucchini. Place tomato sauce over the meat and zucchini. (If you want to use cheese on top of that you can or wait until after it's done cooking if you want the dairy). Continue layering pizza lasagna with more zucchini noodles, more meat and any other toppings of choice until you've used up all of the ingredients. Try to make at least three layers.

Bake in the oven at 400 degrees for 30 minutes. Top with cheese if you like or any other ingredients that you enjoy on your old style lasagna. Let it cool for at least five minutes before you slice it up and serve it.

Serves four to five.
Categories:
---
Related Articles: