Timesaving Healthy Tips for Busy Parents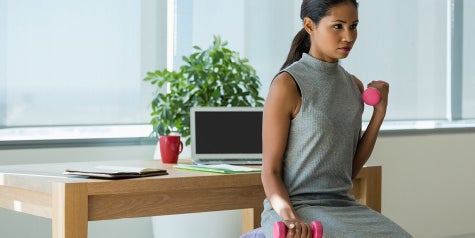 - 2/26/2019
Parents who spend time taking their children to and from activities several times per week may feel that they can't put their health first. It may seem challenging to make good physical activity and nutrition decisions during active days. Let these tips help you busy moms and dads be more heart healthy:

1) Track your health daily.
Regardless of your fitness goal, it helps to track your daily intake of food, water and exercise. If you're carrying a smartphone, then consider using a helpful app (i.e., MyFitnessPal app) to log the amount of water and calories you're consuming. Track exercise and make notes about how you're feeling, such as energy levels or moods, too. If you don't want to use your phone, then write in a small notepad or journal. Spending two minutes after each meal doing this will help you stay on track with your goals.

2) Choose fitness that fits into your schedule.
You may not have an hour or longer at a time to visit a gym. That's OK. Doing five minutes when you can, two or three times per day, is better than skipping a workout. Look on YouTube for a type of fitness that interests you. You can try yoga at your desk or do a 10-minute boot camp even in the smallest space. Go for a walk for five minutes before or after a meal. Find ways to move each day and make every minute you can spare count.

3) Double up when you can.
As your schedule allows you to prepare meals ahead of time, gather enough items to double your amount. Save one meal for the current week, and freeze some for later. That way, on a busy week or month ahead when you don't have time, you can defrost and reheat those healthy meals.

4) Divide meals and snacks.
After you prepare your meals, instead of putting them in one large container, take time to divide them. Portion out meals for the week. Do it for the day and next day if that's all you have time to do. Keep small storage containers on hand, and pack the small ones first. Doing this ahead of time for snacks is helpful too, even items like fruit, almonds and cheese. This tip will help you save time later and prevent you from grabbing too much or an unhealthy food.

5) Keep only healthy snacks around you.
If you are the type of person who will eat what's there, then don't keep junk food around. Only buy and store healthy snacks like fruit bars and fresh fruit on hand at home and at work. Don't reach for the vending machine or the drive-thru. Instead, keep better-for-you options like natural beef jerky or 100 calorie packs of nuts and granola in your purse or car. This way, you'll have a go-to item that you don't have to feel guilty about. If you really want something like ice cream or a cupcake, then you're forced to drive someplace to get it rather than having it in your environment.
We hope these suggestions will help parents and others get motivated to spend a little bit of time taking control of their health. Take care of yourself, moms and dads, so you can take care of your loved ones. If you're not feeling well or you need more health tips, make an appointment with one of our Baptist Health Care family medicine physicians using EasySchedule.com.
Categories:
---
Related Articles: