Summer Health Tips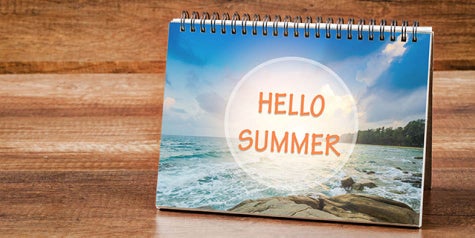 - 7/09/2019
Baptist Health Care wants you to enjoy your summer. We share six overall wellness tips for the season:
Simplify meals. Keep meals simple. Try eating the same breakfast a few times per week, such as oatmeal with berries. Grill double the foods you need on a weekend and eat leftovers with salads during the week. Check out our recipes for meal and snack ideas.

Stay hydrated. Find yourself thirstier in the summertime? As heat rises, your body needs more fluids. Feeling thirsty is a sign that you need to drink more water and that you could be in early stages of dehydration. Other signs include dry, sticky mouth, fatigue, headache, muscle weakness and dizziness. Stay hydrated by carrying a refillable water bottle. Try infusing your water to give it more flavor and entice you to drink more throughout the day.

Protect your skin. In the summer, your skin is typically more exposed to heat and bugs. Wear sunscreen when you are exposed to direct sunlight. Keep pesky mosquitoes away by minimizing the attraction to bugs in your environment. You can do this by getting rid of standing water in your yard, wearing lighter color clothing and avoid sweating whenever possible during peak bug times.

Be active outdoors. Since hours in the summer time are longer, you have more opportunities to be outdoors. Take advantage of that vitamin D your body needs by walking in the early morning or late evening hours. Find a local trail to hike. Plan an outdoor scavenger hunt with friends or loved ones. Consider trying a new sport such as tennis, volleyball or golf. On a really hot day, swimming may be your best option. Look into local pools for their open swim times and policies for visitors.

Plan for a healthy summer vacation or relaxation day. Keep up your healthy habits in the summer months. Clean and update your food pantry. Stock it with a few key items that will make it easy to skip the takeout and enjoy healthier meals. Plan for produce by scheduling the dates and times of your local farmers markets. Have bags in your car and home packed with fitness and swim gear. This will help you be ready for an impromptu day at the beach, hiking in the woods or biking at the park. Grab your pre-packed gear bag and step outside for a day to rejuvenate. Whether you stay near home or plan a trip, these tips can help.

Record your adventures.
With all the fun you're having this summer, be sure to record your adventures. Keep a small notepad with you to write down some of your favorite things you do. Take photos or video of that sunset you saw that took your breath away. Write down that delicious berry pie recipe you made after visiting the local farmers market. Encourage your loved ones to record their summer fun too and share them.

Put your toes in the sand to relax, and try these tips to be well and have an amazing, healthy summer.
Categories:
---
Related Articles: