Recipe: Infused Water Three Ways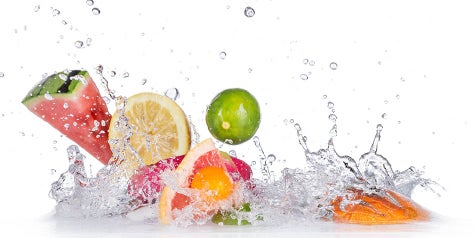 As you heat up this summer, try one of these three refreshing combinations of infused water until you develop your own favorite:
Strawberry Lemon – Fill a half gallon container with 15 washed, sliced fresh strawberries. Add in one sliced lemon (with rind on). Fill with water. Stir gently. Refrigerate at least four hours or overnight.
Cucumber Mint – Slice one cucumber. Place eight fresh mint leaves and cucumber in a half gallon container. Fill with water. Refrigerate at least four hours or overnight.
Watermelon Basil – Slice two cups of watermelon into fine pieces (without rind). Add 15 leaves of basil and diced watermelon into a gallon size container. Refrigerate at least four hours or overnight.
Experiment with your own flavor combinations to find out what you like best.

Here are tips for flavoring infused water and things to know when it comes to savoring:
Certain fruits and herbs will flavor water immediately like cucumbers, citrus fruits, melons and mint. Others like apples, cinnamon, rosemary and ginger will need to soak overnight to produce flavors.
To keep sipping infused water all day, refill your water container when it's half-full. It will be weaker than the first drink but still flavorful.
If you don't drink the water within 24 hours, consider removing or straining out the solid pieces of fruit to avoid it being mushy or bitter. The remaining infused water should be good up to three days to drink.

Stay hydrated this season, and enjoy your water with these infused recipes.
Categories:
---
Related Articles: