Recipe: Mango Salad Dressing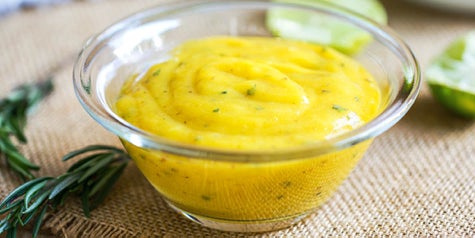 - 5/24/2019
Ingredients
1 mango - peeled, seeded and sliced
3 teaspoons extra virgin olive oil
2 teaspoons balsamic vinegar
1 teaspoon red wine vinegar
1 teaspoon apple cider vinegar
1 teaspoon white cooking wine
1/2 teaspoon sea salt
1/2 teaspoon onion powder
1/2 teaspoon dried and crushed sweet basil leaves
1 cup water
Directions
Grab all your ingredients and spread them on the table. It's much more helpful to have everything at your fingertips, ready to pour.
Prepare your mango first by peeling, removing the seeds and slicing it. Place it in a medium size bowl. Place all other ingredients into that bowl. Mix well. Pour into a blender or food processor.
Puree until smooth. Some small chunks are okay if yours doesn't quite liquify.
Serve over spinach leaves, Swiss chard or any salad green of your choice. This is really good and very simple to make.

Yields one cup of salad dressing, about six to seven servings.
Categories:
---
Related Articles: